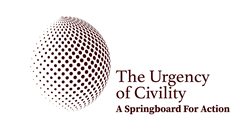 This conference is not about simply moving the needle--it will allow us to begin moving mountains.
ALEXANDRIA, Va. (PRWEB) March 29, 2019
We all know that incivility in society has reached epidemic levels. The question is: what can be done to stem the tide?
The Urgency of Civility conference is the answer.
This important gathering of individuals and organizations engaged in improving civility within our world is intended to open conversations around our various goals, and how we can leverage the strengths of each, while remaining independent.
Located at the historic George Washington Masonic National Memorial in Alexandria, VA from April 29 to May 1, 2019, this conference will feature great speakers who will provide ideas and resources for how we can work together more effectively to restore civility in society. Participants will spend time working together to think about their own work and our collective efforts, with the aim of ending the convening with solid next steps to improving civility in our world.
The Conference will open with a reenactment of President Washington's first inauguration, exactly 230 years ago.
Prominent speakers will share their thoughts and tools to restore civility in various parts of society, including government, education, communities, social and traditional media, children and families, and the workplace.
A Congressional panel consisting of Republicans, Democrats, and Independents, newly elected and longer tenured, will talk about what is working or not in our nation's capitol.
Breakout sessions will be held in each of the six tracks so participants can determine how to work together to be more effective in their efforts.
Each participant will leave the Conference with tools, resources, ​and energy to stem the tide of incivility sweeping our society.
Special rates for students or single day.