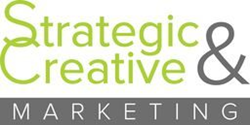 "It's not enough to just post the job ad; businesses need to focus on what makes their employment experience unique from their competitors."
AURORA, Ill. (PRWEB) November 14, 2019
Companies need great talent to move forward. With unemployment currently at less than four percent, it's going to take more than trendy benefits such as Ping-Pong tables and standing desks to attract exceptional employees, according to Susan MacNicol, founder and president of Strategic & Creative Marketing, Inc., a full-service marketing firm in Aurora, Illinois.
Potential candidates seek transparency from potential employers. Often they will have seven to 10 touch points researching a company before they even apply. They want to know that companies provide a supportive and engaging environment to empower all employees. Negative information or no information about a company could cause potential candidates to look elsewhere for a job. By implementing recruitment marketing strategies, companies can communicate their culture and demonstrate why top talent should work at these places.
"It's not enough to just post the job ad; businesses need to focus on what makes their employment experience unique from their competitors," says MacNicol, who previously worked in recruitment for major companies, including Johnson & Johnson, Office Max, Sears and DeVry Education Group (Adtalem Global Education).
MacNicol's firm incorporates the following to help companies devise specific strategies:

Leveraging LinkedIn to create a separate career page with information about the company.
Posting Facebook ads that will pop up when qualified candidates are using this social media platform.
Creating branded content on Glassdoor.
Building a career site on the company's existing website.
Tapping into Applicant Tracking System talent pipelines to maintain connections with candidates
Encouraging authentic employee content that promotes a company's culture, such as social media posts, photos, video testimonials from staff, and videos of office locations and company staff.
With social media being a primary resource for job seekers, a company's information is either an asset or a liability. MacNicol recalls consulting with an unemployed young woman who passed up applying at a company with lots of job openings after doing her social media research. She felt its culture would not be a good fit for her.
"The best talent goes to companies that have the culture, opportunities and initiatives that the employee is searching for," MacNicol says.
In addition to social media, a company's best recruiting tool can be its employees. MacNicol recently created a special referral campaign for one of the country's largest global education companies in higher education. At every quarter, the university's presidents emailed full and part-time staff at their 20 campuses thanking them for their talent and asking them to invite friends and colleagues to apply for various job positions.
"Within one year, the campuses were getting 40 to 90% of their hires coming from referrals," she says. "There were no referral dollars involved. A lot of times companies will have a referral program where someone can get $1,500, for example. When you don't have a budget, simply asking employees to invite people to apply can work."
With her extensive background in marketing, social media and recruiting branding strategies, MacNicol was recently honored with the 2019 Entrepreneurial Excellence Award from The Daily Herald Business Ledger. She is currently a finalist for the 16th annual Stevie® Awards for Women in Business. This award honors women entrepreneurs, employees and the companies they run – worldwide and has been hailed as the world's premier business award.
For more information, visit https://www.scmarketinginc.com.
About Strategic & Creative Marketing, Inc.:
Aurora, Illinois-based Strategic & Creative Marketing, Inc., is a full-service marketing firm established in 2001, and experienced at working with small, medium and Fortune 500 companies. The firm holds a Women's Business Enterprise (WBE) Certification and a Women Owned Small Business Certification (WOSB) issued by Women's Business Enterprise National Council (WBENC). The firm's team has created and implemented national, regional and local marketing and recruitment marketing campaigns. Creative tactics are based on carefully-crafted marketing plans and strategies first, and include print and on-air ads, social media paid ads and organic campaigns, trade shows, emails, video, public relations and promotions. Owner and President Susan MacNicol leverages 25 years of corporate marketing experience in the U.S. and globally to ensure that campaigns are integrated, backed by data and have the most compelling message reaching the right target market through the most effective tactics. MacNicol and Director of Social and Digital Marketing Tami Wloch speak and train locally and globally on all aspects of Marketing, including Social Media, Employment Branding and more. For more information, visit https://www.scmarketinginc.com.