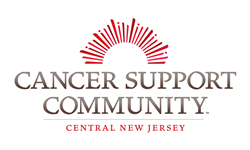 "When our veterans and their families are impacted by cancer, they deserve to receive support that can reduce the burden of the disease," says Amy Sutton, CEO of CSCCNJ
BEDMINSTER, N.J. (PRWEB) May 20, 2020
Cancer Support Community Central New Jersey (CSCCNJ) has announced it is joining the resource network of Warrior Centric Healthcare Foundation (WCHF), based in Maryland, to increase access to vital emotional and social support, at no charge, so that veterans and their family members do not face cancer alone.
"When our veterans and their families are impacted by cancer, they deserve to receive support that can reduce the burden of the disease," says Amy Sutton, CEO of CSCCNJ. "Now more than ever, with the current COVID-19 health crisis upon us, everyone here at Cancer Support Community Central New Jersey has redoubled our efforts to make sure they receive the social and emotional support they need."
"We must never leave our Veterans or their family members behind to battle these illnesses alone, especially when many of their cancers are a result of their service to our country," says Evelyn Lewis, MD, MA, FAAFP, DABDA, President and Chair Warrior Centric Healthcare Foundation. "Our partnership with CSCCNJ ensures we can deliver on the promise to '… care for THOSE who have borne the battle.'"
CSCCNJ sought out the guidance and partnership of WCHF when it realized it had a "silent" population of veterans: cancer patients who did not consider their military status to be an important factor in their care. Joe Belardo, a Vietnam War veteran and advocate, who is active in CSCCNJ's Men's Cancer Support Group and other programs, says, "Mental health is so important to help keep you going. The support groups are the best. By being able to feed off one another in the group, it helps you survive." Belardo heard about CSCCNJ through a fellow veteran who insisted that he should attend the Men's Cancer Support Group, which is the organization's entry point for many veterans. He says, "Being able to share what I experience with others helps me handle things better. We all go through so much; it's important to share and support one another."
According to the Institute of Medicine, optimal cancer care includes access to emotional and social support, which is core to CSCCNJ's mission. Since most people lack access to such support, in 2019, CSCCNJ unveiled its Vision for the Future, a strategic roadmap to addressing the unmet needs of people with cancer, survivors, families, and caregivers. The first pillar, Multicultural Outreach, focuses on building strong partnerships and connection within underserved communities, including Veterans. Meeting the unique needs of underserved populations has been a challenge. According to Katherine Schaible, LSW, CSCCNJ Program Director, "One of the biggest challenges we have faced is meeting the multitude of unique needs across the community, particularly the underserved." Schaible continues, "We have had to lean on additional resources more than ever to ensure people who need us are aware of the services available to them. There are a number of governmental resources, nonprofits, and community- and faith-based organizations with whom we are collaborating to tighten the gaps in service that may have pre-existed for underserved and minority groups impacted by cancer."
Other focus areas in the Vision for the Future include Nutrition; Support4Families; an Unmet Needs Fund for families facing pediatric cancer; and Patient Centered Care research. Taken together, initiatives in these areas will increase community access to CSCCNJ's core work: navigation and referral services; individual counseling; group support; decision support tools; evidence-based educational workshops and nutrition interventions; health and wellness classes; survivorship programs; and activities that build social connections.
For people with cancer, including veterans, Belardo says, "What Cancer Support Community Central New Jersey does, beyond anything, is provide a place for hope."
About Cancer Support Community Central New Jersey:
Cancer Support Community Central New Jersey (CSCCNJ) is a registered 501c(3) and an independent licensed affiliate of Cancer Support Community, an international nonprofit organization. As experts in oncology mental health, the organization provides support, education, and hope to all people with cancer and their loved ones, So That No One Faces Cancer Alone®. Backed by evidence that the best cancer care includes social and emotional support, CSCCNJ creates a caring community to help individuals live with, through, and beyond cancer. At no cost to patients, survivors, family members, and caregivers, the organization delivers essential programs and services including individual and group support; educational workshops; hands-on nutrition and healthy cooking education; classes to enhance health and wellness; and social activities for the entire family. In response to the COVID-19 crisis, CSCCNJ has moved its entire program of support to a virtual platform and has seen a 51% increase in participation since the start of stay-at-home orders. Plans are already underway to provide a combination of virtual and in-person programming in the future. For more information please visit their website at cancersupportcnj.org or call (908) 658-5400.
About Warrior Centric Healthcare Foundation:
Warrior Centric Healthcare Foundation (WCHF) is a registered 501c(3) charitable entity established by military Veterans with expertise in the area where health, wellness, and healthcare delivery intersects with the social determinants of health and military culture.
At WCHF, we envision communities that possess the knowledge and capacity to not only identify and address service-related health challenges, but to embrace, support, and empower Veterans and their families who experience them. The Veteran Medical Neighborhood Consortium (VMNC) is the framework used to design the structured, bidirectional, and cross functional relationships and partnerships (clinical and non-clinical) needed to achieve our mission. It is through these partnerships that we engage to educate, and maintain resource networks that support the complex physical, social, and emotional needs of Veteran communities across the nation. As WCHF addresses the systemic inequities regarding access to quality of care for Veterans and their families, we strive to create a world where ALL Veterans and their families live healthy and well lives undiminished by their service-related health concerns. For more information please visit our website at wchf.us or call 833. 924. 4376 Ext 3.