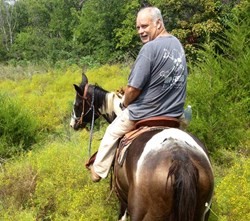 I have my best friend back.
Dallas, Texas (PRWEB) September 23, 2013
Otis Foshee's seemingly boundless energy kept him always on the go in Oklahoma City, where he enjoyed managing his several businesses and keeping up with his active wife, Stacey. Or, at least that was the case until a fateful day in 2004, when the first hemiplegic migraine occurred, and life was never the same again. Otis recalled that one second he was driving along in his car, and the next he was being transported to the hospital with his left side paralyzed and his head splitting with an excruciating headache.
His wife, Stacey, a well-respected physician, described the ordeal that followed. "His disease didn't respond to any therapies," she related. "He lost his business, his independence, and hope. I lost my husband, my best friend and our boys lost their father. Seven years we spent afraid and desperate. We lost our lives. Otis wasn't even fifty years old."
When hope had all but evaporated, Stacey, learned from a colleague of a promising new migraine treatment that had been pioneered by Dr. Ken Reed of nearby Dallas, Texas. "We couldn't believe it when we heard about Dr. Reed," Stacy explained. "Otis insisted we drive to Dallas and go to one of the symposiums. Despite dragging his left leg, holding his limp left arm and being nauseated from yet another severe headache Otis sat and listened to Dr. Reed speak about migraine therapy with neurostimulator implants. When Dr. Reed asked if anyone in the auditorium had any questions, Otis raised his right hand and asked 'When?' Otis wouldn't rest until he got his implant."
Dr. Reed recalled their first meeting. "Mr. Foshee was suffering from devastating hemiplegic migraines," Dr. Reed explained. "We found him to be a good candidate for a trial neurostimulator, and once I reviewed my recommendations in detail, his response was pretty straightforward. 'Let's go', he said."
Stacey considers the day of his permanent implant, October 4, 2011, as the day that Otis regained his life, and she regained her husband. "From the beginning, Otis had great success with his new implant," she explained. "He was immediately able to navigate his symptoms. He was immediately able to control the headache AND override the hemiplegia. It's been two years, and although he has symptoms, Otis is no longer at their mercy! Otis has reopened a business. My best friend is back!"
Dr. Bob Bulger, of the Southwest Pain Group, explained that the "Reed Procedure" has been documented successful for many patients suffering from debilitating migraine headaches. "Building upon his earlier invention of occipital nerve stimulation, in 2009 Dr Reed published his perfected procedure in 'Cephalalgia,' the journal of the International Headache Society," Dr. Bulger explained. "The Journal then presented Dr. Reed with their 'Cephalalgia Award' for the best original submission of the year."
Dr. Frank Conidi of West Palm Beach, a recognized expert in headache medicine, offers the Reed Procedure to his patients with refractory headaches. "It is so gratifying to see such remarkable responses in my long-suffering patients," Dr. Conidi reports. "Just this past week I performed the trial procedure in three patients with refractory migraines, and all three reported simply beautiful responses."
So, how is Mr. Otis Foshee doing two years after his Reed Procedure? Well, Stacey confirms that he is doing just fine, thank-you. What about if one wanted to ask him directly? "That too is fine," Stacey says. "You can find him this weekend up at Notre Dame, where he will be supporting his Sooners, as they take it to the Irish."
About Reed Migraine Centers:
Reed Migraine Centers partners with the most respected pain management physicians in the world to provide individuals who suffer from chronic migraine headaches with access to the most effective pain control treatments available. Reed Migraine Centers offers advanced treatments and minimally invasive procedures, including the International Headache Society's Cephalalgia Award winning Reed Procedure® to help migraine suffers enjoy a better quality of life. The partner physicians of Reed Migraine Centers continue to engage in pioneering pain management research to find new and more effective ways to control chronic migraine headaches and someday end migraine pain. To learn more about Reed Migraine Center visit http://www.ReedMigraine.com.
About Neuro Stim Technologies:
Neuro Stim Technologies is a marketing agency specializing in raising the awareness of innovative technologies and advanced procedures that improve the quality of life of those that suffer from chronic pain. Neuro Stim partners with top facilities to provide increased access for migraine patients.