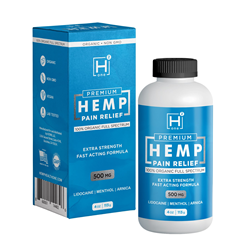 Help your body recover naturally from chronic pain and aches
ENCINITAS, Calif. (PRWEB) April 29, 2020
Hemp Health One Unveils its Latest Hemp-Infused Product — CBD Pain Cream
Today, Hemp Health One rolled out its CBD Pain Relief Cream*. This is the newest addition to the company's hemp-derived wellness products.
Similar to Hemp Health One's CBD oil and sour gummies, its topical analgesic cream is also made with full spectrum CBD derived from organically grown USA hemp. The hemp is non-GMO and has zero pesticides, heavy metals, or residual solvents.
One bottle of CBD Pain Cream contains 500mg of full spectrum CBD. Its other key ingredients include menthol (4%), arnica, and lidocaine.
3 Compelling Reasons To Use A Hemp-Based Topical:
Minimal Risks of Side Effects
It's hard not to notice the TV commercials promoting a new drug nearly every week. Towards the end of these commercials, the various side effects are discussed and shown on the bottom of the screen. Some of these side effects are downright frightening! Luckily, cannabidiol, the main ingredient in CBD pain cream, does not have very many side effects. And the ones that have been reported, such as dry mouth or fatigue, are not dangerous or life-threatening.
Targets the Exact Area Where You Seek Relief
When you use a hemp-derived CBD topical, like a pain cream, you get to apply it to the specific area on your body that's bothering you. So, if you have a sore back or hamstrings that ache, just rub a small amount into that area for 30 to 60 for deep penetrating relief.
Contains Plant-Based Herbs with Therapeutic Properties
Menthol is well-known for its minty and refreshing smell. Beyond that, it provides a cooling sensation when applied to the skin. For centuries and to this day, arnica is used to relieve muscle aches and pains. And lastly, lidocaine temporarily numbs sore muscles to help decrease pain levels.
The combination of these ingredients works synergistically to provide stronger effects, which is why they were included in the CBD Pain Cream formula. Consumers can enjoy the cooling effects and analgesic properties of this topical cream after a workout, before bed, or anytime the body needs a little support and relief. Learn more about this product at http://www.hemphealthone.com/products/cbd-pain-relief-cream
Finally, we believe our CBD pain cream stands out above the competition because it is registered with the FDA and complies with the Food, Drug, and Cosmetic (FD&C) Act.
You can find our CBD topical registered under FDA NDC 53723-201. The abbreviation of NDC stands for National Drug Code. Learn more about this product at http://www.hemphealthone.com/products/cbd-pain-relief-cream
As a commitment to its customers, the co-founders of Hemp Health One, "guarantee superior quality, top-notch safety through our rigorous lab testing, and precise measuring of our premium hemp extract in every bottle."
The family-run business has experienced a radical improvement in their health and their lives thanks to CBD. That is why they "want to share the nutrient-rich, non-psychoactive, and botanical benefits with others."
In celebration of its new product release, Hemp Health One is giving 10% off to customers who use promo code: hello10. You can browse its CBD store at http://www.hemphealthone.com to learn about its other products like CBD sour gummies and CBD oil.* Also, check out the company's blog (http://www.hemphealthone.com/blogs/news) and FAQ page (http://www.hemphealthone.com/pages/faqs) to learn more about CBD.
You can contact the company at support@hemphealthone.com or give them a call at 1-888-502-0015 to get your questions answered.
*These products are not intended to diagnose, treat, cure or prevent any disease. Yet, they may help you feel better.