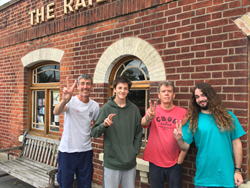 "I Love Marijuana" the new Marijuana Anthem by The Hemp Potter 4 is being transmitted into Outer Space via The Milky Way by Space to Space Technology hoping for First Extraterrestrial Contact
LOS ANGELES (PRWEB) November 14, 2017
"I Love Marijuana" by The Hemp Potter 4, an English Bo Diddley Frat Garage Band led by Eddie Edwards, founder of the first wave UK band, The Vibrators, is being sent to other planets, solar systems and galaxies via the Milky Way using Space to Space technology . If there are UFOS, Extraterrestrial life and Alien Civilizations, The Hemp Potter 4 wants to introduce the Extraterrestrials to Bo Diddley and Garage Rock and to sing along to "I Love Marijuana". Talk2Ets.com will be transmitting into Outer Space the "I Love Marijuana" music download available and distributed by CDBABY.com and the official "I Love Marijuana " Hemp Potter 4 You Tube video along with a short written message by the band.
The Hemp Potter 4 hope to immortalize themselves and their music by making first contact with Alien life. Chances are Intelligent Extraterrestrial beings won't hear "I Love Marijuana" until centuries after the band and Manager Mickey Michaels have passed but who knows, maybe the Aliens can somehow clone them via their audio sound waves and restore them to human life in the future.
Anyone interested in licensing "I Love Marijuana" for Film, TV, (Legal) Commercials, Recordings. Ringtones, etc, Live Performances, Appearances, Interviews and additional information on The Hemp Potter 4 should email HempPotter4(at)Gmail(dot)com Official Music Downloads of "I Love Marijuana" are available at CD Baby, Amazon.com, iTunes and other fine music outlets.
The Hemp Potter 4 consists of the father son team of Dave English on lead Vocals, Alfie English, bass, Darrell Mayhead, guitar and of course Eddie Edwards on drums. Mickey Michaels manages and cowrites with the band and decided that Outer Space is the next musical frontier. The Hemp Potter 4's musical influences include the great Bo Diddley, Howlin' Wolf, The Downliners Sect, The Kinks and the Stooges and aim to make Rock fun again instead of being Politically Correct. Party On
The Story of "I Love Marijuana"
Manager Mickey Michaels, an occasional social pot smoker took notice that there weren't that many Marijuana Rock Songs in an era where Marijuana seems to be legalized each day. So he decided to write a Marijuana Anthem: "I Love Marijuana." The idea was to incorporate the basic phrase "I Love Marijuana" with a strong Bo Diddley beat powered by Eddie Edwards drumming. Michaels set up the basic gist of the song to Eddie and Eddie and The Hemp Potter 4 expanded on the original lyrics and Mickey's ideas. Pat Collier, a co-founder of The Vibrators with Eddie, produced and engineer "I Love Marijuana" at Perry Vale Studios.
Again, anyone interested in licensing "I Love Marijuana" for Film, TV, (Legal) Commercials, Ringtones, etc, Live Performances, Appearances, Interviews and additional information on The Hemp Potter 4 should email HempPotter4(at)Gmail(dot)com