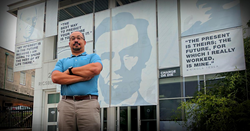 "This recent addition expands our industry experience and enables us to showcase our talents further in the Durham market—an area in which we're highly focused on increasing our client roster." - Mark F. Simmons
Durham, NC (PRWEB) August 24, 2017
A growing Durham marketing agency is building on its portfolio with a client who's building on Durham.
Mixed Digital, whose industry-spanning clientele includes regional start-ups and well-established national brands, has partnered with Hem + Spire, a boutique real estate investment and management company reinvigorating historic properties around the Bull City.
Though headquartered in New York, Hem + Spire was founded by Duke University grad Maxwell Joseph, who has a keen passion for preserving and honoring Durham's landmark architecture. In less than five years of operation, Hem + Spire has renovated buildings at 433 West Main St. (to which it is adding solar panels, among other improvements), 211 Rigsbee Ave., and the Snow Building, whose unmistakable Art Deco facade has graced West Main St. since 1933. Its latest acquisition is the 32,500-square-foot BB&T building at 505 South Duke St.
"Durham is able to cater to a lot of growth," says Hem + Spire's Business Development Manager, Kelly Villanueva, on why the area is an ideal market for commercial investment. "It's a city of good people, good market fundamentals, solid local industries."
Mark Simmons, Mixed Digital's founder and chief strategist, reinforces that Hem + Spire's interest in Durham is key to the agencies' partnership. "This recent addition expands our industry experience and enables us to showcase our talents further in the Durham market—an area in which we're highly focused on increasing our client roster."
A full-service digital marketing agency, Mixed Digital will help shape Hem + Spire's brand voice and web presence; and, in the meantime, the growing real estate firm will continue to develop its local investment. Their mission is to preserve the fundamental qualities that make Durham's historic architecture special while upfitting it to better serve modern commercial needs and aesthetics.
"We're looking for partnerships with the Chamber, city officials, cultural events, and opportunities to give back in Durham," says Joseph. "We want people to invest in us long-term. We believe in Durham. We're here to stay."
For more about Mixed Digital's capabilities and portfolio, visit http://www.mixeddigital.com.
To learn more about Hem + Spire's history and vision, visit http://www.hemandspire.com.