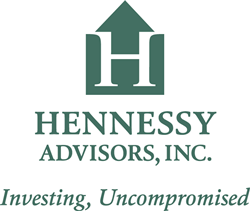 NOVATO, Calif. (PRWEB) March 29, 2019
SunStar Strategic is pleased to announce that Hennessy Advisors, Inc. is a Gold Sponsor for SunStar Strategic's 2019 Mutual Fund Conference, "Thriving in an Ever-Changing Industry." The conference is ideal for small to medium-sized fund firms who want to grow.
Neil Hennessy, Founder, Chairman and CEO of Hennessy Advisors, Inc., will participate in a panel about mergers and acquisition trends in the mutual fund industry, sharing his insights from completing 10 acquisitions representing 30 mutual funds. He will be joined by Bruce Cameron, Partner and Co-founder of Berkshire Global Advisors, and Brad Hearsh, Senior Advisor with UBS Investment Bank.
The event features two keynote speakers. Christopher Davis, Head of U.S. Research for Strategic Insight, will present "Distribution Essentials for Boutique Funds," addressing how boutique firms can market themselves. Davis' comments will be data-based and support his hypothesis that multiple channels of distribution should be pursued. Warren Miller, Founder and CEO of Flowspring, will present "Beating the Big Guys - How to Attract Assets as an Active, Boutique Manager." Miller will share unique analytics that highlight how small managers are already winning and how to take these strategies to the next level. His comments will include a close examination of the characteristics of funds that are driving significant asset growth.
"This year's event promises to provide a wealth of actionable information for fund managers," said Hennessy. "I've participated in SunStar's conferences for many years. They do a professional job with presentations that are very well suited to smaller and mid-sized fund firms. It's time well spent."
Thriving in today's competitive environment is tougher than ever. To address the industry's issues, the conference will offer panels of:

Fund managers with assets ranging from $120 million to $250 billion talking about specific techniques they are using to sell their funds, covering an array of products, sales efforts and marketing structures.
Industry experts offering insights on how to get on platforms and maximize opportunities.
Financial journalists sharing what they're looking for and what topics they find to be of interest.
Data and digital providers demonstrating how to maximize their services for advisor outreach through smart data.
The conference takes place April 29 and 30 in Washington D.C. For more information or to register, please visit sunstarstrategic.com/conference or call 703.299.8390.
About Hennessy Advisors, Inc.
Hennessy Advisors, Inc. is a publicly traded investment manager offering a broad range of domestic equity, multi-asset, sector, and specialty mutual funds. Hennessy Advisors, Inc. is committed to its consistent and repeatable investment process, combining time-tested stock selection strategies with a highly disciplined, team managed approach, and to superior service to shareholders.
About SunStar Strategic
SunStar Strategic offers public relations (PR) and marketing programs to help attract, maintain, and grow clients. Core services include comprehensive PR, creative strategy, and execution. SunStar is headquartered in Washington, D.C. with offices in Chicago, New York City, and Austin.