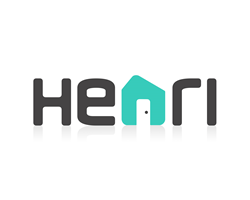 "I've been impressed to see what Henri could do for our portfolio in only a few years," said Mark-Taylor President John Carlson. "When Henri launched its payment processing component, it became a no-brainer against any other online rent payment platform."
SCOTTSDALE, Ariz. (PRWEB) November 22, 2021
Henri, the choice multifamily community experience software for property management teams and residents, offers in-house payment processing through HenriPay. The superior payment option eliminates the need for third-party platforms, expedites resident payments, allows for next-day funding and enhances rapid customer service.
"When we designed Henri's framework, our goal was to solve the most common problems that both property management teams and residents struggled with," said Henri Co-Founder and President Alana Millstein. "At the top of the list and across the board, our clients had issues with their third-party processing. As a native app, HenriPay solves for those issues by making payments reliable and seamless."
HenriPay is available on iOS and Android to allow for a better resident experience by offering the ability to pay rent on the go. Henri's in-house payment processing also has next-day ACH funding, increased security, is PCI compliant, and has a dedicated support team that monitors tickets 24 hours a day. Additionally, HenriPay is one of the only payment processors in the industry that can process payments in Canada.
"With our previous software, we had to manually post and batch all 'deposits' for applications," said Mark-Taylor Manager of Community Operations Ciera Moraga. "HenriPay has lifted the burden of allowing both applicant and resident payments to sync directly with our current property management software. This created a smoother workflow and a simpler interface for our residents."
Properties also benefit from HenriPay because it allows residents to set up autopay with customizable options, reducing late payments and collection issues. Corporate accounting teams can collect rent payments from residents across their entire portfolio, manage payments with detailed analytics and create monthly statements detailing deposits, returns and batches each month with ease.
"I've been impressed to see what Henri could do for our portfolio in only a few years," said Mark-Taylor President John Carlson. "When Henri launched its payment processing component, it became a no-brainer against any other online rent payment platform."
Resident feedback has been overwhelmingly positive as HenriPay allows for rent payments via ACH, debit card or credit card on the go. Residents can view their balance and review charges directly from the app, where they can also connect with their community, make maintenance requests, receive package notifications, schedule doggy play dates, scope out local deals, shop on a community marketplace and much more.
"Using the Henri in-app rent payment has made splitting, scheduling and paying my rent easier than ever," said resident Harrison Seay. "It's an incredibly convenient tool and I have yet to have any issues with its accuracy or payment processing unlike other apartment complex portals I've used that constantly had issues."
For more information, visit https://henrihome.com.
About Henri:
Henri is the modern multifamily community experience software trusted by management teams and residents alike. Through social features such as live chat, pet playdates, community social feed and marketplace, Henri increases resident retention by making it simpler than ever to connect within a community.