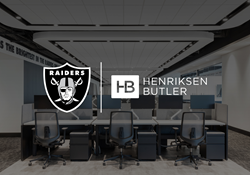 HB has been a fantastic partner from the beginning, knowing exactly how to execute our workspace plans and providing recommendations every step of the way.
LAS VEGAS (PRWEB) September 21, 2020
Henriksen Butler (HB), a locally-based interior furnishings company, has been named a Proud Partner of the Las Vegas Raiders and a Building Partner of Allegiant Stadium.
For over 40 years, HB has been known for creating places where people and organizations can thrive. Now, the interior furnishings company is adding the all-new Allegiant Stadium in Las Vegas, NV to its impressive project roster. The Raiders chose HB to work side-by-side with CAA Icon and the project's architects and designers to furnish the team's spaces, including operational facilities at Allegiant Stadium and the state-of-the-art Intermountain Healthcare Performance Center.
"Allegiant Stadium has been such an exciting project to work on, and the Raiders have been an extraordinary partner throughout the process," said Henriksen Butler's Las Vegas Market President and Principal, Heather Bressler. "As a Las Vegas business, we understand the importance and significance of Allegiant Stadium to our community and the Raiders' fan base. We have put a lot of thought and care into creating a space that fully supports the organization."
Allegiant Stadium will welcome the team for their inaugural home game in Las Vegas this evening as the Raiders host Monday Night Football.
"When choosing a company to provide furnishings for Allegiant Stadium, we required one with extensive large-scale experience plus a great reputation," said Tom Blanda, SVP of Stadium Development and Operations for the Las Vegas Raiders. "HB has been a fantastic partner from the beginning, knowing exactly how to execute our workspace plans and providing recommendations every step of the way. We look forward to a long and fruitful partnership with their team."
HB supports a full scope of interior furnishing needs through in-house professional services, including space planning and design, project management, delivery, installation, storage and product maintenance. Their partnership with the Raiders is the most recent in a long history of outfitting major sporting organization venues, including the Las Vegas Ballpark, the United States Olympic USA House and Vivint Smart Home Arena.
"When people ask what we do, we proudly say that we help to create great places where people work, learn, heal, live and play," says HB CEO Dave Colling. "When we complete a project, we take pride in what we leave behind and its impact on the organization and surrounding community for years to come."
For more information about customizing your own space—big or small—visit hbdg.com.
Legends Global Partnerships represented the Raiders to secure the partnership with Henriksen Butler as a part of their duties as the stadium's official premium ticketing and sponsorships agency.
About Henriksen Butler
For over 40 years, Henriksen Butler has helped customers throughout Nevada, Utah, Idaho and Wyoming to create great places to work, learn, heal, live and play. The company offers a diverse range of furniture and accessories, specialty storage, flooring, roller shades and prefabricated interior construction. With over 200 employees throughout the Intermountain West, HB proudly serves its communities from locations in Las Vegas, Reno, Salt Lake City, St. George and Boise. For more information, visit hbdg.com and follow them on Instagram, LinkedIn and Facebook @HenriksenButler.
About Allegiant Stadium
Located adjacent to the world-famous Las Vegas Strip, Allegiant Stadium is a global events destination, highlighted by the arrival of the iconic Raiders. Allegiant Stadium is ideally located for both visitors and locals, fully enclosed and climate controlled with a capacity of 65,000. The technologically advanced stadium will host world-class entertainment including concerts and sporting events such as the Pac-12 Championship Game and Las Vegas Bowl, as well as become the home of UNLV Football. The stadium project is expected to generate an economic benefit of $620 million annually, while creating 6,000 permanent jobs in Southern Nevada. For more information, visit http://www.allegiantstadium.com or follow them on Facebook, Twitter and Instagram.
Media Contact
Misty Bond
misty@mistybondpr.com
801-725-5977