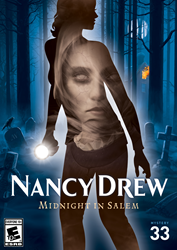 "Nancy Drew games are rooted in storytelling and Midnight in Salem will embroil players in a mystery rooted in historical intrigue," Penny Milliken, CEO of HeR Interactive
BELLEVUE, Wash. (PRWEB) December 03, 2019
Award-winning video game publisher and developer HeR Interactive today released Nancy Drew: Midnight in Salem, showcasing its new 3D game design platform using the Unity engine. In this latest mystery adventure installment, the iconic teen sleuth unexpectedly finds herself in Salem, Massachusetts investigating an arson at the haunted Hathorne House. Nancy Drew: Midnight in Salem is available now at http://www.herinteractive.com for $21.99 exclusively for PC and Mac.
In Midnight in Salem, Nancy races to uncover the truth behind the arson and discovers connections to the house's past with the Salem witch trials. Nancy's convictions are put to the test as she finds herself drawn into a struggle with supernatural events that she simply can't explain. Are the ghosts real? Has Salem's dark history come to life, or is there someone else to blame? Time is short and you, playing as Nancy Drew, must gather clues, solve puzzles and interrogate suspects to find the answers before the clock strikes midnight in this all new mystery adventure!
"Nancy Drew games are rooted in storytelling and Midnight in Salem will embroil players in a mystery rooted in historical intrigue. Fans will experience, for the first time, a Nancy Drew game in real-time 3D and will interact with an expanded cast of over 10 diverse characters, including fan favorites Frank and Joe Hardy," said Penny Milliken, CEO of HeR Interactive. "Midnight in Salem is still our classic point and click game, but real-time 3D gives the game a different effect than the 2D rendering in our past games. It offers the player enhanced freedom and control when moving through Salem's multiple environments and looking at objects at any angle the player wants. This is truly our largest game: players get double the hours of sleuthing and crime-solving activities in a rich historical context. Additional improvements will continue with each new game, just as we have been doing for the past 20 years."
Midnight in Salem will also unveil for the first time the new voice of Nancy Drew – Brittany Cox. Brittany is a voice over artist, actor, and producer based in L.A. She was born in Raleigh, NC and has lived all over the US. Brittany brings a fun, sassy, modern day persona to Nancy Drew that will resonate with fans the world over.
"I am so honored and excited to be the new voice of Nancy Drew," remarked Brittany Cox. "As a huge fan of the books and the games, it still feels unreal! I can't wait to share this new game with the passionate Nancy Drew fan base around the world. Thank you for welcoming me into this amazing community."
Key features:

Analyze clues with all new examinable 3D objects
Team up with the Hardy Boys
Discover historical facts about the accused witches in the Salem trials
Explore expansive 3D environments and investigate with updated controls
Take a tour of Salem and discern fact from fiction
Meet and interact with over 10 characters
Solve clever and challenging 3D puzzles embedded into the story
Enjoy thrilling in-game cutscenes
Cook a favorite New England dish: Johnny Cakes
Explore an ancient cemetery and historic estate
Mix herbal potions and learn about ancient remedies
Solve multiple crimes including arson
Sleuth at Amateur or Master level and earn achievements
Pricing, rating and availability: Nancy Drew: Midnight in Salem is rated E 10+ by ESRB and is available now for $21.99 at http://www.herinteractive.com
For more information about Nancy Drew: Midnight in Salem, visit: https://bit.ly/2OI2QsN
To view the Nancy Drew: Midnight in Salem trailer, visit: https://bit.ly/2OI2QsN
About Her Interactive:
HeR Interactive is the leading mystery-maker and a pioneer of fun and inspiring interactive family entertainment. The company, with over 30 awards to its name, designs, develops and publishes high-quality, mystery adventure games and apps for all ages. HeR Interactive's Nancy Drew games have sold more than 9 million copies. This success, in part, is buoyed by the ever-increasing numbers of girls and women becoming avid game players. Nancy Drew players now include moms who have introduced their daughters to the girl detective, making her one of history's longest-running iconic figures spanning generations.
More information about the company and Nancy Drew games can be found at http://www.herinteractive.com.
Find HeR Interactive on Facebook at https://bit.ly/2rrfBA4, on Twitter @HerInteractive or on YouTube at https://bit.ly/33prxzs
About Nancy Drew:
Nancy Drew debuted in 1930 and is still going strong. She is a smart, independent, gutsy and resourceful teen detective who can crack even the toughest case. Published in 22 languages and with more than 100 million copies in print worldwide, Nancy Drew has engaged readers and served as a role model globally for generations.
Copyright 2019 HeR Interactive, Inc. All rights reserved. Mac and the Mac logo are trademarks of Apple Computer, Inc., registered in the U.S. and other countries. Windows is a registered trademark of Microsoft Corporation in the U.S. and other countries. Nancy Drew is a registered trademark of Simon & Schuster, Inc. "Unity", Unity logos, and other Unity trademarks are trademarks or registered trademarks of Unity Technologies or its affiliates in the U.S. and elsewhere. Other names or brands are trademarks of their respective owners.