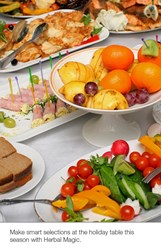 "With Herbal Magic, holiday meals don't have to get out of control and derail weight-loss efforts," said Dr. Regan Tessis ND, VP of Scientific Affairs.
Toronto, Ontario Canada (PRWEB) December 23, 2013
'Tis the season where holiday party invitations start rolling in – and now's the time to take control of those eating habits and build positive momentum for all of the holiday celebrations and New Year's Eve parties to come. Recognizing that the holidays are the toughest time to stay on track or to begin a new weight-loss program , Herbal Magic is pleased to introduce great weight-loss tips and weight-loss recipes from its Fall & Winter cookbook. Whether hosting or attending as a guest, the following tips make it easy to partake in merriment yet minimize the damage and unwanted weight gain.

Start with Soup: Broth-based or pureed vegetable-dense soups are great sources of nutrients and an excellent way to prevent overindulgence once the main course arrives. If hosting, try making one of the soups from the Herbal Magic Fall & Winter recipe collection. Rich Cinna-Sweet Potato, Pumpkin or Cauliflower and Cheddar Soup will wow guests and keep weight-loss goals on track. The trick is adding a variety of spices and blending vegetables after simmering to achieve a thick yet smooth consistency. If attending as a guest, offer to bring the soup. This first-course option is easy to make ahead and transfer in a slow cooker so as not to take up much space in the cook's kitchen.
Sample Different Salads: Think all salads are the same? Think again. It's easy to get sick of salad or push it aside when the same plain, boring greens have to share table space with rich appetizers and decadent desserts. Whether hosting or feasting, it's easy to give those greens some pizazz by trying a new recipe. Introduce a harvest Apple & Celery Salad or Marinated Vegetable Salad from Herbal Magic's Fall & Winter cookbook and the flavourful, crisp textures and vibrant colours will be a welcome addition to any holiday table.
Don't Say No to Dessert: With delicious, delectable desserts like Cranberry Crunch, Apple Crisp or Pumpkin Pudding on the table, no one else will even know the dessert's designed for weight-loss results. The best part is that each of these dessert recipes adds up to a half or even full serving of fruit or vegetables. Find a full list of ingredients and instructions in Herbal Magic's Fall & Winter cookbook.
"With Herbal Magic, holiday meals don't have to get out of control and derail weight-loss efforts," said Dr. Regan Tessis ND, VP of Scientific Affairs. "We believe in real food, personal coaching and support, and natural health products to help you achieve your weight-loss goals. We understand that events are about togetherness, not deprivation. The Herbal Magic program offers its Fall & Winter cookbook to bring families together, while helping you stay on track to reach your goal weight."
About Herbal Magic Weight Loss & Nutrition Centres
With approximately 280 centres nationwide, Herbal Magic is the largest Canadian owned and operated weight-loss company in Canada. Every Herbal Magic Canada team member has been extensively trained and certified as an Herbal Magic Personal Health Coach. With the support of its Scientific Advisory Team – comprised of naturopathic doctors, nurses and dieticians – Herbal Magic's weight-loss experts have the experience, training and tools needed to support clients throughout their weight-loss journey. Herbal Magic's comprehensive system of real food, personal health coaching and natural health products is, quite simply, a common-sense approach to lasting weight loss. Visit http://herbalmagic.ca to learn more.