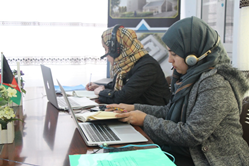 The major benefits of blockchain technology and the positive change it will provide on a global scale can only happen if the pool of people who create it are as diverse as possible.
LOS ANGELES (PRWEB) February 26, 2020
HerCode is pleased to announce their collaboration with USC Viterbi School of Engineering and the Digital Citizen Fund in Afghanistan to launch a program providing over one hundred Afghani high-school girls education in blockchain technology. This program furthers HerCode's mission to empower women to have a prominent role in this new era of technology through blockchain education. With a focus on underserved communities, HerCode hopes to prevent the widening gender gap in the blockchain industry by providing girls and women from around the world an opportunity to learn, contribute, and earn digitally.
Blockchain technology promises to reduce barriers for all and democratize accessibility to knowledge and wealth. Unfortunately, accessibility is really not an option for many women, particularly those from disadvantaged communities or developing regions.
Heidi Pease, Founder of the Los Angeles Blockchain Lab said, "We aim to make this technology more readily available for all through our strategic partnerships and programs, from the corners of our local communities to the farthest outreaches abroad." [HerCode is an Impact and Diversity initiative under the LA Blockchain Lab].
Nicole Campa, Co-founder of HerCode added, "The major benefits of blockchain technology and the positive change it will provide on a global scale can only happen if the pool of people who create it are as diverse as possible."
The World Economic Forum predicts "10% of total GDP to be stored on blockchain by 2027," yet today less than 9% of the bitcoin community and fewer than 7% of blockchain developers are female. To address this crisis, HerCode aims to equip women
Avalon Barrie, Co-Founder of HerCode said, "Through much research and our own personal experiences, we noticed a shortage of women in the industry. Our goal is to give as many women around the world who may not have access to this education a chance to be part of this new technology. Hopefully, with this knowledge, these women can then further their careers, help this industry grow and continue to spread awareness on their own. Why wait until this gender gap gets wider?"
Women in Blockchain:

According to Fortunly 8.5% of all investments in cryptocurrencies are made by men
According to Coindesk, "New blockchain startups in 2019 had only 14.5% women as team members and only 7% in executive positions. "
HerCode partners with best-in-class universities, training centers, and corporate partners around the globe, creating a network of leading blockchain professors and industry experts, to provide the highest quality education programs. All of their initiatives align with five of the UN Sustainable Development Goals (UN SDGs 4, 5, 8, 9 and 10) and carefully consider diverse cultural implications that blockchain can bring. Their first international endeavor is currently taking place in Herat, Afghanistan via a video-conferencing class through partnership with University Southern California (USC) Viterbi School of Engineering, ranked "#9 Best Engineering School in the US," and the Digital Citizen Fund (DCF), a non-profit organization providing digital literacy training for young women in developing nations.
Roya Mahboob, Founder of the Digital Citizen Fund said, "DCF's mission is to increase women's participation and advancement in the workplace by providing women with quality education, training, and support. Partnering with HerCode provides women in underserved populations a pathway to digital literacy, specifically blockchain which could transform the societies in which they live for the better."
Professors Nitin Kalé, who developed the Minor in Blockchain at USC, and Eric Chung are leading the blockchain teacher training which concludes at the end of the year and awards DCF teachers and over 100 teenage girls with a certificate of completion from USC.*
Nitin Kalé said, "Education should have no borders. Sharing my knowledge with other teachers and professors has a multiplier effect that can bring technology education to a global student audience." Eric Chung added "Education is a high-leverage activity that drives mainstream adoption of new technology. I'm thrilled to partner with HerCode to challenge students to ask "What if we could usher in the future just a bit earlier?"
For local U.S. activities, HerCode is launching a series of blockchain events throughout Los Angeles beginning in March and includes hands-on workshops from industry and academic leaders. "We'd like to help make LA one of Melinda Gates' next Gender Inclusive Tech cities (GET) by bringing in as many women and girls into the LA blockchain space as possible," said Campa. In 2020 alone, HerCode's LA initiative anticipates well over 700 teenage girls and women ranging from blockchain curious to coders to career shifters and entrepreneurs.
For more information, sign-up for HerCode's newsletter or contact us at http://www.hercodeglobal.com.
Sponsors making this initiative possible include several anonymous donors as well as CoinCircle, a decentralized finance company reinventing the future of money and finance.
For media inquiries, please contact Kili Wall at (310) 260-7901 or Kili(at)MelrosePR(dot)com.
More about HerCode
HerCode, a non-profit based in Los Angeles, is the impact and diversity initiative of the LA Blockchain Lab, is a non-profit based in Los Angeles, California and aims to educate 1 Million girls and women by 2030. HerCode believes an education in blockchain will help give women, specifically those in underserved communities, access to a global language that is the future of technology and communication. HerCode will help provide participants with job opportunities, internships, continued education, and access to an international community of HerCode Global alumnae. Bringing them to the forefront of this technology will change the trajectory of their lives.
More about USC Viterbi School of Engineering, Minor in Blockchain
The USC Viterbi School of Engineering is internationally recognized for creating new models of education, research and commercialization that are firmly rooted in real world needs. In 2019, under leadership of Prof. Nitin Kalé, they became one of the first schools in the world to offer a minor in blockchain for students interested in entrepreneurship, fintech, and decentralization.
More about the Digital Citizen Fund
Founded in 2013, by Roya Mahboob, is a 501(c)3 non-profit organization which provides IT centers in developing countries where women and children can gain access to technology. The foundation virtually connects them with others across the world, obtaining the necessary technological training to be competitive in today's global market.
Disclaimer: DCF students gain knowledge and training from USC faculty through academic outreach. DCF students participating in HerCode's program are not enrolled USC students and are not receiving USC academic credit.