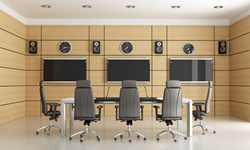 (PRWEB) March 10, 2017
Recent data shows that Arizona's courts handled an average of 45 jury trials and 254 non-jury trials every single week. Leading up to those cases are dozens of depositions scheduled outside of court, typically conducted with the help of a court reporting firm like Herder & Associates in Phoenix. With litigation on the rise and a demand for experienced court reporters to capture depositions accurately and promptly, technology has become a key player in how court reporters do their job.
With the first quarter of 2017 wrapping up shortly, Marty Herder, a court reporter with Herder & Associates, is working hard to ensure that his company is on top of all of the trends with legal videography and real-time court reporting. These trends are enabling individuals to work faster and more effectively from a distance.
Gone are the days in which a court reporter needs to travel to a far off location in order to assist with a deposition. These days, real time court reporters are able to connect in via technology system such as web conferencing or using systems such as GoToMeeting and LiveLitigation. Herder has seen the court reporting industry evolve as the need for qualified and accurate court reporters has only increased. Despite this fact, keeping expenses and travel time down has become a chief concern among the attorneys making use of court reporters.
That's why Herder's Arizona company Herder & Associates is focused on meaningful ways that attorneys can still complete their depositions from afar. One of the easiest ways that this is accomplished is using videoconferencing.
"Being able to provide these services from a distance ensures that the lawyers get a final product with the accuracy level they need without having additional travel costs or time investment. It's been a critical way to help attorneys schedule depositions quickly and stay on top of their caseload," Herder says.
Live videoconferencing allows lawyers to connect with one of Arizona's deposition suites that is equipped with the latest technology. A teleconferencing network supported by Herder and Associates enables attorneys to get access to a real time supporter with as little challenge as possible.
The videoconference suites are located in downtown Phoenix and this allows many attorneys to complete their depositions at a much faster rate without the additional cost of having to travel too far. Rough drafts and daily copy transcripts can make the situation even easier for an attorney who needs access to this relevant information to move forward with a legal case.
With videoconference suites located in Phoenix Scottsdale and Chandler, as well as mobile web conferencing, this allows many attorneys to complete their depositions at a much faster rate without the additional cost of having to travel too far.
To learn more about the firm, please visit http://courtreportersaz.com/