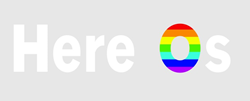 Aaron Walton, Michael Childers and Gloria Allred represent the best of us. Their tremendous personal courage and sacrifice serves as a beacon to humanity
LOS ANGELES (PRWEB) January 29, 2020
Here TV, America's first and largest LGBTQ+ video channel, today announced the world premiere of the biographical docu-series Here Os, produced and directed by Emmy-nominees David Millbern and Billy Clift.
Here Os is a multi-episode biographical series that tells the stories of influential LGBTQ+ people who helped shape contemporary queer culture. Through archival footage and original interviews, Here Os shines a light on monumental moments from LGBTQ history.
"We could not think of a better way to inspire our community than profiling these remarkable heroes," says producer David Millbern. "Each of them has blasted through glass ceilings to uplift all of us. This series and these stories express our gratitude and admiration for these remarkable trailblazers."
Season 1 of this original series launches with three insightful profiles: Episode 1 features Michael Childers, a renowned and highly respected film, dance, and theater photographer. Episode 2 features Aaron Walton, co-founder of influential multi-cultural marketing and advertising company Walton Isaacson. And episode 3 features Gloria Allred, the women's rights attorney known for taking high-profile and often controversial cases including a challenge to California's Prop 8.
"Aaron Walton, Michael Childers and Gloria Allred represent the best of us. Their tremendous personal courage and sacrifice serves as a beacon to humanity," says Here Media CEO Paul Colichman. "They personify our corporate mission of authenticity and visibility for LGBTQ+ people. Here TV is honored to share their stories with the world."
Here TV (http://www.heretv.com) launched in 2004, making it the world's first SVOD LGBTQ+ video service, and is available on all major US cable operators including Xfinity, Spectrum, Cablevision, FiOS, U-Verse, Cox, as well as http://www.here.tv where it can be viewed on all iOS and Android mobile devices. Here TV reaches millions of viewers each month and has produced Academy award-winning films in addition to receiving four Daytime Emmy Award nominations.