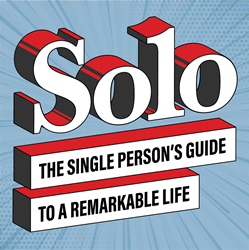 LOS ANGELES (PRWEB) January 14, 2020
In a world where most people get married, where do people turn for advice if they don't want to settle down—for now or forever?
Now there's a new playbook, one that takes a positive view of living single—and living well. Solo: The Single Person's Guide to a Remarkable Life is a podcast that explores how not being married can afford you the opportunity to start a business, make art, travel the world, or simply sleep in when you want to.
More people than ever are questioning the assumption that marriage is the path to a good life. Emma Watson recently made international headlines and set social media abuzz when she described her relationship status as "self-partnered." Rapidly changing demographics prove she is an exemplar of a broader trend. Of American adults, 110 million are unmarried, and 25% of Millennials will never marry.
Dr. Peter McGraw—a behavioral scientist and bachelor—hosts Solo along with revolving co-hosts. McGraw interviews unmarried men and women living remarkable lives and assembles advice from leading experts about health, fitness, money, business, travel, fashion, art, leisure, and of course, sex and dating.
The podcast dispels myths of marriage and monogamy, profile illustrious unmarried women and men, and reveal McGraw's own experiments in personal and professional development—from near misses in marriage to how he made the Stylish Scientist list.
Solo is an essential resource for the person who will never marry, the person who is putting off marriage, the recently divorced, and any of the above who sucks at being single.
The first five episodes are available wherever podcasts can be found, including iTunes and https://www.petermcgraw.org/solo/:
1) Introducing Solo
2) The science of single living
3) Why are super heroes single?
4) What is ethical non-monogamy?
5) What Kristin Newman was doing while you were breeding
About Solo's Host, Dr. Peter McGraw:
Dr. Peter McGraw (http://petermcgraw.org ) is a sought-after professional speaker who gives talks at Fortune 500 companies, public events, and universities around the world. As a marketing and psychology professor, he teaches graduate courses in behavioral economics for the University of Colorado and marketing management for London Business School, UC San Diego's Rady School, and the University of Colorado.
Dr. McGraw is on sabbatical in Los Angeles where he is a visiting scholar at USC's Cinema School. As a global expert on the scientific study of humor, he directs the Humor Research Lab (aka HuRL) and is finishing his second book: Shtick to Business: What the Masters of Comedy Can Teach You about Breaking Rules, Being Fearless, and Building a Serious Career
A bachelor who has never been married and has no kids, Dr. McGraw knows what it's like to thrive as a single person. McGraw has worked hard over the years to develop perspectives and practices to facilitate healthy habits and personal and professional success. He can be reached at 1-720-837-2622 or peter.mcgraw@colorado.edu.