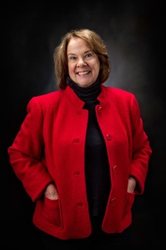 FREDERICK, Md. (PRWEB) October 22, 2020
Mary Rose Boswell, executive director of Heritage Frederick since January 2014, announced Friday, October 16, that she is leaving the organization at the end of the month.
"Many milestones have been achieved, and it is time for me to focus on my family and quality of life," she said.
During her time as executive director, her focus has been to connect the past to the present with relevant topics in ex-hibits, programs, and collections. Established in 1892, the organization has a new brand, name, logo and website, and renewed certification with the American Alliance of Museums, verifying that Heritage Frederick meets the highest standards in the museum field. Heritage Frederick is in the best financial health that it has ever been in many years, pre-dating her arrival. She created a Community Exhibition Gallery for smaller, timely exhibits, and installed four exhibitions in that space. She added a popular history/Halloween themed escape room in the museum in 2019. Boswell supervised the publication of a Frederick County history book, two exhibition catalogs, and wrote monthly "Time Pieces" for Fred-erick Magazine. Major exhibitions included Frederick County By Design, and she had an older exhibition space converted into a Snallygaster Exploratorium, dedicated to experiential learning. A new exhibition, We the People: The Stories of Frederick County is planned to launch with a Virtual Tour in December. Commemorating Frederick's 275th anniversary, We the People has generated considerable positive support from the City of Frederick, Frederick County Government, community organizations and grantors. The planning process resulted in a network of diverse partners with a common goal to work together to create a common vision for the future. Working with Delegate Karen Lewis Young's 19th Amendment Centennial Anniversary ad hoc committee, she created a Women's History Tour to commemorate the 100th anniversary of Women's Suffrage.
Heritage Frederick's Frederick County Archives and Research Center has also grown with new collections. The Margaret Myers Collection, the largest private genealogical collection related to Frederick County, was made accessible to the public. The organization was recently awarded a $50,000 federal grant and a $5,000 private foundation grant to address the Davis Photography Studio Collection, the organization's largest archival collection, to make it accessible as well. Bond bills are awarding several preservation projects, including the restoration of the windows and doors, renovation of the former gift shop next to the Church Street building, and interior repairs.
Currently, Boswell serves on the Nonprofit Alliance of the Frederick County Chamber of Commerce, Visit Frederick's Marketing Committee, Frederick County Historic Sites Consortium, and is a member of the Rotary Club of Carroll Creek, where she serves on the Membership Committee and Oktoberfest/German Heritage Tent. She is also a member of the Carrollton Manor Chapter, NSDAR. She has cut back on those activities due to added responsibilities at Heritage Frederick.
Prior to coming to Heritage Frederick, Boswell worked for museums in Virginia and New Hampshire. An exhibition, field trip program, an article, and one of two published books received national awards. She is a recipient of the National Award for Museum Service, at the White House, and was designated a Leader of the 21st Century/Cultural Category, by Business NH Magazine. While in Virginia, she was curator of 36 historic sites, including the Powder Magazine in Williamsburg and the John Marshall House.
"I am excited about Heritage Frederick's future," she said. "Heritage Frederick is reaching out in new ways to engage more people than ever before. The Museum and Library staff are excellent, and the or-ganization is poised to be a model to follow," she said.
In addition to taking more time off and having more quality time with her family, she will serve as a re-viewer for the American Alliance of Museum and the Institute of Museum Services. "I will certainly keep in touch with the many friends I have acquired here," she added.