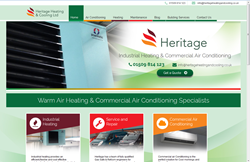 We're very pleased with the design of our new site
(PRWEB UK) 1 May 2015
Leicestershire-based Heritage Heating & Cooling Ltd has launched a brand new website to improve their service to customers. Alongside a fresh, updated appearance, the new site has been built to ensure that it is optimised for desktop, mobile and tablet access alike, delivering the same content in a user-friendly and efficient way regardless of the platform used to view it.
Statistics show that internet users are increasingly browsing on the move, using mobile phones, tablets and other devices to access the sites and information they need. Last year, it was reported that mobile browsing had overtaken desktops in the US, and here in the UK 52% of e-commerce traffic comes from mobile devices. Search engine Google has also recently announced that their rankings will soon take into account how mobile-friendly sites are, so the new responsive design is a timely upgrade.
Visually, the site has been updated with a clean, contemporary look and easy-to-use navigation, making sure that all information is easy to access and read, as well as being appealing and attractively presented.
A spokesperson for Heritage Heating & Cooling said: "We're very pleased with the design of our new site, and we hope that our customers will find that it's much more user-friendly, attractive and effective. We know that people today want to be able to access information, help and advice wherever they happen to be, and our new site delivers that perfectly."
Based in Leicestershire, Heritage Heating & Cooling Ltd specialise in the supply, installation and maintenance of industrial heating and air conditioning equipment. They have a team of highly qualified and experienced engineers, and can install and maintain a range of well-known brands including Fujitsu, Panasonic, Powrmatic and Benson. Their convenient central location means that they can offer nationwide coverage, and they serve both commercial and industrial premises.
For more information about Heritage Heating & Cooling Ltd, please visit their website at http://www.heritageheatingandcooling.co.uk.