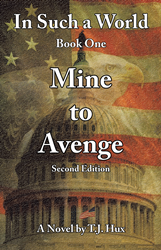 "I want readers to not shy away from the gritty, rough and morally-conflicted realities of this world," Hux said. "Soldiers who face war, as well as everyday people, can experience physical, mental and spiritual scars. I want people to see the healing power of the good news that Jesus offers."
SALEM, ORE. (PRWEB) January 03, 2023
Matthew Pierson finds himself hunted by the people he once served. Dishonorably discharged from the Navy, the former Navy SEAL's life becomes twisted into a quest to find answers for a murderous mission and an internal battle between seeking a path of vengeance or a hope for redemption. Trying to return home, trouble follows. People he loves are put at risk and he flees to pursue the vindication of his name and the recovery of his soul.
In "In Such a World: Mine to Avenge," author T.J. Hux was inspired by his deep respect and concern for those who serve in our armed forces and law enforcement communities. As a Lutheran pastor for over 30 years, he has known and befriended military and law enforcement veterans, and from them he learned of their struggles with PTSD, guilt, and depression as they tried to cope with their experiences.
"I want readers to not shy away from the gritty, rough and morally-conflicted realities of this world," Hux said. "Soldiers who face war, as well as everyday people, can experience physical, mental and spiritual scars. I want people to see the healing power of the good news that Jesus offers."
"Mine to Avenge" is the first book of the "In Such a World" series of Matthew Pierson adventures. Through these stories, Hux introduces an atypical hero, whose conscience battles between desperate need for forgiveness and a burning desire for vengeance. He hopes that by writing the series, his stories may help others find grace, healing and hope.
"In Such A World: Mine to Avenge"
By T.J. Hux
ISBN: 9781489741554 (softcover); 9781489742537 (electronic)
Available at LifeRich Publishing, Amazon and Barnes & Noble
About the author
T.J. Hux is a Lutheran pastor in Salem, Ore. He and his wife have served congregations in Montana and Oregon for over 31 years. They have three sons and two grandchildren. Vacations may find him scuba-diving or snorkeling in the waters of the Bay Area in Calif., or setting crab traps at the Ore. Coast. To learn more, please visit http://www.insuchaworldseries.com.