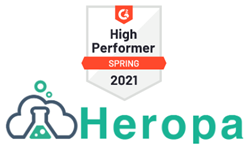 "To be acknowledged as a High Performer in the Virtual IT Labs industry is a huge achievement. We'd like to thank our customers for making this possible" said Jason Kinsella, CEO of Heropa.
SYDNEY (PRWEB) March 25, 2021
Heropa has been named as a High Performer in Virtual IT Labs by G2.com, Inc., the world's leading software review website, and has topped the rankings across a number of key categories.
When compared with 8 other Virtual IT Lab providers in the G2 Spring 2021 Report, Heropa's rankings clearly demonstrated their end-to-end capability, with them gaining the following awards:

Most Implementable
Highest User Adoption
Best Support
"We are thrilled with our results in G2's Spring 2021 report for Virtual IT Labs," said Jason Kinsella, CEO of Heropa. "Thanks to our customers for providing such detailed reviews, with 100% of reviewers rating us 4 or 5 stars. Our 'Most Implementable' and 'Best Support' awards demonstrated our commitment to create industry leading onboarding and support processes respectively.
"To receive a 97% user adoption score, well above the industry average of 67%, also demonstrated our efforts to create a seamless user experience have been worthwhile. Your reviews have also given us insight into the areas you'd like us to improve."
Report highlights for Heropa include:
High user satisfaction score, with an NPS of 93
100% of reviewers said the product was going in the right direction
100% Quality of Support score
97% user adoption score, far exceeding the industry average of 67%.
According to Tom Pringle, Vice President, Market Research at G2: "It is the authentic voice of the customer that powers our reports at G2 – ranking B2B software founded on users' experience in buying, implementing and using it. We are delighted to highlight the tangible achievements of software solutions ranked on our site as they showcase the voice of the user while delivering valuable, actionable insights to other potential buyers and users."
"Some of the quickest support I have seen and such a wonderful tool for live & interactive events," says Sean, a Heropa customer.
To read more reviews of Heropa's Virtual IT Labs visit https://www.g2.com/products/heropa/
About G2
G2, the world's leading business solution review platform, leverages more than one million user reviews to drive better purchasing decisions. Business professionals, buyers, investors and analysts use the site to compare and select the best software and services based on peer reviews and synthesized social data. Every month, more than three million people visit G2's site to gain unique insights. For more information, go to http://www.g2.com
About Heropa
Heropa's mission is to simplify the delivery of complex software environments so hands-on learning can happen. Our clients run virtual labs on Heropa's high performance infrastructure across 20 locations globally to hold virtual instructor-led classes and events; deliver hands-on, self-paced software training; and showcase complex software in sales demos and POCs. Discover Heropa today at https://www.heropa.com/, or contact us for a demo.