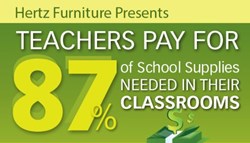 Our infographic campaign continues our longstanding commitment to schools and teachers.
Mahwah, NJ (PRWEB) August 29, 2013
Hertz Furniture, the premier school and office furniture supplier, is putting the spotlight on the educational world by creating awareness about important issues affecting schools, teachers, and students. Its innovative infographics depict and shed light upon relevant topics such as teachers paying out of pocket to supplement classroom supplies, the competitiveness of teacher salaries, the benefits of ergonomics in the classroom, and more.
For almost 50 years, Hertz Furniture, the school furniture expert, has been providing for schools via its one-of-a-kind promotions and deals which make it possible for daycares and classrooms to be fully equipped at prices they can afford. By bringing to the forefront topics which directly impact educators and students, the new infographics campaign continues the Hertz Furniture tradition of caring for and supporting the educational community.
According to one infographic, which displays the results of an NSSEA survey, 99.5% of teachers spend their own money on school supplies and classroom materials, spending an average of $945 out-of-pocket annually. Another inforgraphic illustrates the history of school teachers' wages, raising the questions of whether teacher salaries have kept pace with outside job opportunities and whether compensation is sufficient to attract quality instructors.
Boasting a near 500 5-Star Rating on Shopper Approved, Hertz Furniture online customer reviews include statements such as "Have purchased here many times and always have good experience," while 93% of customers say they would recommend hertzfurniture.com to a friend.
"We are proud to present our infographic series," says Hertz Furniture President Saul Wagner. "Designed to highlight and illustrate current issues in the realm of education, our infographic campaign continues our longstanding commitment to schools and teachers. In turn, through raising awareness, we hope they will have a positive impact upon school systems and the lives of our children."
About Hertz Furniture:
For over 45 years Hertz Furniture has supplied schools, religious institutions, businesses and government offices with top quality commercial furniture and superior customer service. Speedy Quotes, Quick Ship products, a wide selection of Eco-Friendly furniture, a free Project Planning and Design service and the best warranties in the industry are just a few of the ways that Hertz Furniture provides added value to its customers. For additional information on Hertz Furniture and its extensive line of products, please visit HertzFurniture.com, speak to a furniture specialist at 888-802-6549, or send an email to jonathanyunger(at)hertzfurniture(dot)com.