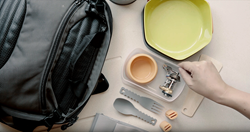 By introducing a simple, minimalist-style of camping gear with our design, we hope to make people think about why living has to be complicated.
HONG KONG (PRWEB) September 27, 2018
Today, Hex Solo launches its campaign for the expandable, extremely compact mess kit that encourages people to be creative with limited resources and prepare the best food while traveling. Inspired by Japanese minimalism, Hex Solo is a collection of silverware and cookware used for outdoor activities such as camping, hiking and backpacking.
"By introducing a simple, minimalist-style of camping gear with our design, we hope to make people think about why living has to be complicated," said Hex Solo Creator Keith Chow. "If we could just simplify, but not over-simplify, things in a good way, I think the world will be, if not much better, at least much easier. We also hope to introduce how Japanese outdoor enthusiasts to liberate their spirit and imagination by implementing the simple expandable design."
Hex's hexagonal shape allows for each item to fit compactly inside of one another, similar to Origami. The each item is designed with a hexagonal shape, which leads to a space-saving and modular design. Each mess kit includes an 20 cm. frying pan, expandable spork, wooden spatula, multi-purpose prep box, 900ml nesting bowl, collapsible coffee cup and a set of elastic bands to keep the kit together when placed in a bag or when traveling.
The Hex Solo non-stick frying pan is made of hard-anodized aluminum and coated with a non-stick layer, while the detachable and extendable spork is made from nylon 6-6, which prevents the non-stick layer of the frying pan from scratching and withstands high temperatures, and platinum-grade silicone rubber. The Hex Solo series consists of three major sets: Hex Solo for the single user, Hex Duo for two users, which includes a total of two nesting bowls and two sporks, and Hex Jumbo for four users, which includes a total of four nesting bowls and four sporks.
Hex Solo is currently available for preorder starting at $35 on Kickstarter. For more information about the campaign, or to pre-order, visit pr.go2.fund/hexsolo.
About Ani Ani Intl.
After testing many different mess kits, Creator Keith Chow and his outdoor enthusiast business partner, Konishi Kichibee, found several common problems with each one: they were all non-expandable, sacrificing ergonomic factors for the sake of being compact and limiting the methods of cooking and variety of meals. They were determined to create a mess kit for hikers and travelers that would be affordable, but not be made of cheap materials that would easily break, while being compact and easy for travel. Their love of Japanese minimalism is reflected in the use of Japanese cypress in the spatula of the mess kit. For more information Hex Solo or Ani Ani Intl., visit producthype.co/hexsolo/.