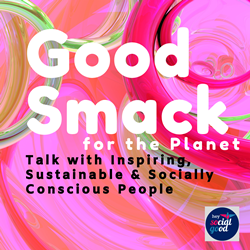 The Good Smack for the Planet Podcast gives it to us straight, sharing how people who made "it" are everyday heroes who took a risk and doubled down on their passion.
SAN DIEGO (PRWEB) July 23, 2020
Hey Social Good launched "Good Smack for the Planet" Podcast this Spring to share all the positive impacts taken on by social leaders. Listening to Good Smack for the Planet is like being a fly on the wall in a room full of social impact entrepreneurs and creators talking about turning their passion into purpose driven enterprises against obstacles big and small. Each episode shares the socially conscious journey of impassioned business owners and leaders, and how they make positive change and impact -- ones we are all looking for in our lives.
Good Smack for the Planet's guest list has grown quickly in a short few months. From an entrepreneur, Vivian Sayward, who created the first line of golf fashion for women, Vivacity Sportswear, to a marine biologist, Chelsea Rochman, who gives tips to curb pollution from your washing machine, to an Italian gamer scientist, Salvatore Di Dio, who is helping us catch Pokemon-like sustainable actions, these episodes illuminate how people work on giving back to the community while incorporating sustainable operations in their business. Hosted by Dr. Cindy J. Lin, CEO and CoFounder, and Kate Houser, Creative Director, of Hey Social Good, they chat with some of the most interesting people one would love to bump into in a cafe, and answer tough and wild questions one would love to ask.
"We are committed to sharing good stories, ones where people get things done in a purpose-driven way, against all odds. We are looking to inspire ourselves and anyone looking to infuse social good and positive action in their lives, because there's so many little things we can all do" explained Dr. Cindy J Lin, when asked why this podcast matters.
The Good Smack for the Planet Podcast gives it to us straight, sharing how people who made "it" are everyday heroes who took a risk and doubled down on their passion. When Cindy J and Kate chatted with Kim Otto, CoFounder of Moon Valley Organics, about organic plants used in their lotion to help relieve skin irritation, the raw passion in Kim's voice, when talking about creating and sustaining an organic farm in Washington state, makes one want to run out and slather on some skin-relieving balm to support family farms in the US and our declining bee population.
The Good Smack for the Planet Podcast has more exhilarating stories coming up, including Monica Leonard, Founder of Molly's Suds, who created a 100% toxic-free cleaning product line that engages your senses with every lavender cleansing spritz. Her emotional, personal story about the loss of her daughter and her subsequent discovery of nasty toxins in our laundry detergents and cleaning supplies will make anyone feel "woke" and start systematically changing out all their home cleaning products.
Listening to each episode is like taking a mini Master Class from people who have identified a problem and figured a way to solve it, their way, their style. Cindy J and Kate Houser's conversational approach towards each guest means listeners hear a small nugget of pure insight from these business owners and leaders, as well as catch the unguarded nuance in each guest's answers and musings.
The podcast is available on all podcast platforms, including Apple Music, Spotify, iHeartRadio, Stitcher, and on Hey Social Good's platform. The podcast releases new episodes every two to three weeks.
Hey Social Good is a unique content and data-driven platform that helps consumers easily shop with purpose by awarding medal rankings to socially conscious companies who give back and practice sustainable business operations. It's user-friendly and community oriented platform is the perfect hub to find ways to incorporate positive impact into your daily life.
Hey Social Good is powered by HOVE Social Good Intelligence, a unique social impact focused data analytics Public Benefit Corporation.
For more information, visit: https://www.heysocialgood.com
Contact: hey@heysocialgood.com