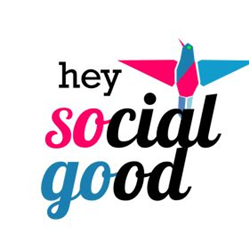 We are looking for people wanting to make a dent on climate change, building a new sustainable economy, and fighting for social injustices.
SAN DIEGO (PRWEB) August 27, 2020
Hey Social Good officially launches their Trailblazer Ambassador, Scholar and Internship Programs this Fall. The three distinctly different programs offer inspiring ways for people and students to get involved, share sustainable + ethical activities, practice social activism, and spread social good. These unique social impact focused programs are designed for passionate people committed to creating change, implementing fresh ideas, investigating best sustainable and ethical resources and adopting an impact-driven lifestyle.
When asked about what drives her social impact tech company, CEO and Co-Founder, Dr. Cindy J Lin, immediately stated, "our committed team of diverse and highly motivated individuals who are determined to use better words, data, information, and images to expand our social impact in small and big ways. We are looking for people wanting to make a dent on climate change, building a new sustainable economy, and fighting for social injustices."
The Trailblazer Ambassador program gives writers and bloggers a creative way to share their artistic talent and commitment to making change. The program is looking for individuals to authentically tell stories of socially conscious brands and guide people towards sustainable and ethical best practices. Director of Business Development, Latha Rao, states, "the program is working to build a generation of trailblazing world-changers."
The Scholar program offers hands-on research building experiences designed for students or recent graduates interested in learning how to analyze information and data around timely social, ethical and environmental issues, such as food justice, race, socioeconomic healthcare access, and more. Hey Social Good's Scholar program addresses sustainable and ethical questions around social impact.
Hey Social Good is also opening up its robust Internship program this Fall to all students. Hey Social Good has provided work experience training to over 20 interns in the two years since it started. Interns work in a dynamic startup environment where they receive hands-on mentorship. According to Latha Rao, "our interns work to develop skills in research and writing, data science, environmental health, marketing, sales, and web design and development."
Erin Gentry, a recent UC San Diego graduate and current intern, shared that "being a part of the team at Hey Social Good has helped me to expand my knowledge and passions while proving that the two can go hand in hand in daily life and career goals. I came in with a public health and environmental sustainability mindset, and have ended up developing skills in public relations, business operations, impact assessment and communication!"
The Hey Social Good platform is a unique content and data-driven yelp-like platform that helps consumers easily shop with purpose by awarding bronze, silver, gold and platinum medal rankings to socially conscious companies who give back and practice sustainable business operations. The platform's 200+ decision points data model considers a company's social and environmental impact and its contribution to achieving the United Nations' Sustainable Development Goals.
For more information, visit: https://www.heysocialgood.com
Contact: hey@heysocialgood.com