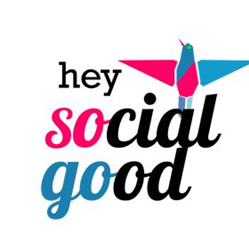 Dr. Cindy J Lin aims to help consumers and businesses reach their goal by providing a data-driven platform and assessment tool to help translate massive amounts of information in a digestible way.
SAN DIEGO (PRWEB) August 06, 2020
Hey Social Good's innovative approach towards data and social impact was recently highlighted by Dell Technologies in their Perspectives writeup, "Using Data to Draw a Footprint of Good" by Marty Graham. The Dell Technologies' platform informs on emerging technologies and recently reported on the impact of Hey Social Good's data and social innovation in this space. The Perspectives' piece touted CEO Dr. Cindy J Lin's efforts to evaluate the social impact "footprint left by [companies'] actions" which are drawn from data.
The Dell Technologies Perspective highlighted how Hey Social Good "turned to statistical studies and deep learning to analyze and understand large swaths of data, which helps in creating the criteria for assessing businesses and organizations. The team gathered data about consumption and production, trying to find ways these organizations impact and affect their community. Some companies, for example, partner with and provide consistent funding for local nonprofits that serve communities—a huge area of need."
Dr. Lin aims to help both consumers and businesses reach their goal by providing a data-driven platform and assessment tool to help translate massive amounts of information in a digestible way. As a consumer, there's more value and meaning behind diverting as much carbon dioxide from landfills as planting six trees or not driving 300 miles than the more ambiguous 'recycled'. For a company, it's much easier to market when you know what your true impact is rather than guessing.
Dr. Lin previously worked at the United States Environmental Protection Agency for 19 years and has taken her regulatory, policy and scientific experience into the purpose-driven world of business to make sure no one spends an entire day researching for the best trash bags to help make a small difference in giving back to people and the planet. She started Hey Social Good because of her own frustration as a consumer, spending six hours looking for the best eco-friendly and socially responsible tall kitchen trash bags.
With Hey Social Good, she collects information on companies and organizations to assess whether they truly give back or adopt sustainable practices. The most popular part of Hey Social Good is "how to give consumers accurate information in clear language they can use", and small businesses want to be a part of that.
Dr. Lin aims to incorporate 50,000 more businesses into the Social Good Optimization Data Assessment Tool to give consumers more trustworthy choices and data driven information. Her team looks at no less than 200 data features per company and to date, about 3,000 companies have been evaluated. Dr. Lin found that many small and medium companies do not understand the details of their sustainability or giveback impact; she is working to show off purpose-driven business' social impact and provide better alternatives for consumers. "I want to make it easier and simpler to show what the social impact is from buying from a small enterprise that has adopted sustainable practices or is setting out to do social good," she reinforces.
Hey Social Good is powered by HOVE Social Good Intelligence, a unique social impact focused data analytics Public Benefit Corporation. Hey Social Good is committed to helping consumers easily find and rank the best companies and products that are helping the planet and people thrive. Social good medals are awarded to socially conscious companies who give back and practice sustainable business operations.
For more information, visit: https://www.heysocialgood.com
Contact: hey@heysocialgood.com
For details, check out Using Data to Draw a Footprint of Good