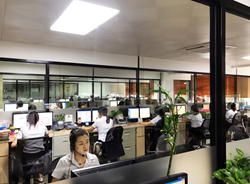 HF Food Group's going public is not only the pride of all Chinese Americans but also a new chapter in the history of American immigrants
NEW YORK (PRWEB) September 18, 2018
On September 5, 2018, HF Food Group (NASDAQ: HFFG) held a ringing ceremony on Nasdaq for its listing. In the evening, HF Food Group hosted a grand celebration at Grand Restaurant in New York. New York State Senate Toby Ann Stavisky, Congressman Edward C. Braunstein and New York City Councilman Yaming Gu, attended the banquet to celebrate the historic moment of HF Food Group.
HF Food Group's going public is not only the pride of all Chinese Americans but also a new chapter in the history of American immigrants who have the American Dream. Zhoumin Ni, HF Foods Group's CEO who traces his origins to Fuzhou, China, and then soon after graduating middle school, moving to America, found himself in dire straights in regard to the romanticized projection of his future in contrast to what the reality of his situation actually was.
Since leaving China in 1987, Ni has struggled for more than 30 years and finally built out his own food logistics kingdom, which has become a unicorn in the Asian food delivery in the United States. During the interview, Ni Zhoumin recalled, "When I first arrived in the United States, like many people from Fuzhou (a city in the southeast of China), I could only work in a restaurant day and night. Usually, after the work of more than 12 hours, I went back to my rental house and fell asleep directly after a simple rinse. When I woke up, I went to the restaurant to continue working. "
In fact, almost every immigrant from Fuzhou has experienced the same situation and they fell extremely tired. Their American dreams usually start from the Chinese restaurant. Standing in front of the restaurant, Ni doubted the meaning of his life. He realized that hard working was not enough to make a difference in this land. Therefore, he kept learning and thinking about how to open and operate restaurants in the United States. With smart commercial mind, keen insight and unusual enthusiasm, Ni had successfully owned eight restaurants by 1991. From zero to one, he only spent less than four years.
When his catering business was growing, Ni encountered the first bottleneck: Chinese restaurants' demand of raw materials exceeds supply. In 1997, Ni turned 30 years old and at his family dinner with several friends, he said, "Now my business has reached some achievements, but it is difficult to expend furthermore. I should find the root cause from myself." Since starting the business, Ni has kept the habit of rethinking and summarizing. "I found that the delivery of raw materials often couldn't keep up with restaurants' needs. Sometimes the delivery truck arrived in the middle of night, and it's really a headache for us. In addition, as far as I know, the profit in the food logistics industry is very big, so why not deliver food for ourselves? " This suggestion was agreed by the people present. A few months later, Ni established HF Food Group, which focuses on food distribution.
From 1997 to 2018, HF Food Group, the food delivery company that initially served their own restaurants, has grown into an entity of $300 million. Currently, HF Food Group has about 400 employees, 3 core logistics and warehousing centers, and more than 100 cold chain transport trucks. Its distribution service covers 10 states across the United States and provides raw materials for more than 3,200 Asian restaurants. HF Food Group has become one of the leading food distribution service providers in the southeastern United States. In the step-by-step exploration, Ni, the experienced entrepreneur, is taking HF Food Group to a brighter future.
After the listing, HF Food Group will focus on optimizing logistics efficiency and will further expand its business to Asian food distribution. At the bell ringing ceremony, HF Foods Group's spokesman said, "HF Foods Group is seeking cooperation opportunities with various companies. Now we have successfully listed on Nasdaq Stock Exchange, and we will use this platform to expand our global business in the future. We hope to work with entrepreneurs from all walks in more areas."