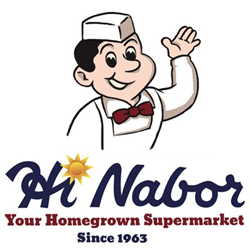 "We hope this will be a game changer for us," CEO Jim Crifasi.
BATON ROUGE, La. (PRWEB) April 15, 2021
Hi Nabor Supermarket, a family-owned supermarket chain founded in 1963, has announced the successful transfer of 100% ownership of the company to its employees via an Employee Stock Ownership Plan (ESOP).
Hi Nabor CEO Jim Crifasi says the company's leadership team has been engaged in succession planning for the past several years and initially thought the idea of an ESOP was "crazy." However, the more they learned about an ESOP, the more sense it made for the company's future.
"It keeps our management team together and gives all my brothers and sisters an exit strategy without putting a strain on Hi Nabor," Crifasi says. "The ones who want to continue working here in their same position will be able to. It's also a great deal for our employees and will continue the legacy my father set up in 1963."
An ESOP — a qualified retirement plan that buys, holds, and sells company stock for the benefit of the employees, providing them with an ownership stake in the company — provided the ability to slowly transition leadership of the company over time, and reward the team who helped the company be successful.
"We hope this will be a game changer for us," Crifasi says.
About Hi Nabor Supermarket
Sam Crifasi founded Hi Nabor in 1963 with his brother, Francis. The grocery chain has three locations in Baton Rouge and is known for offering fresh quality meat, specialty bakery items, homegrown produce and Louisiana seafood. With nine children of his own, Crifasi's experience of feeding a large family shaped his business philosophy of offering grocery items at an affordable price. To this day, Hi Nabor is still driven by those same family values, strong work ethic and a commitment to providing customer value.
About ESOP Partners
ESOP Partners is an ESOP service provider that changes lives by creating wealth and sustainable employment through employee ownership and works with business owners and companies to determine if an ESOP is a good fit for their situation. ESOP Partners establishes, maintains, and sustains employee stock ownership plans (ESOPs) throughout the lifecycle to maximize the benefits of being an ESOP company and provide employees with an ownership stake in the company that they work for. Connect with us on LinkedIn: https://www.linkedin.com/company/esop-partners.
The total number of ESOPs in the country is about 6,400 representing 14.1 million participants and total plan assets of $1.5 trillion dollars.
Studies have demonstrated that ESOP companies outperform their non-ESOP counterparts. A recent study demonstrated that employee-owned companies are 235% better at job retention than their non-ESOP counterparts (Source: NCEO).