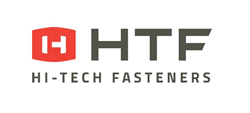 "The ISO 9001:2015 designation represents further assurance to our customers that HTF Canada has a stringent dedication to process, quality and continuous improvement." - Steve Hill, GM of HTF Canada
FREDERICK, Md. (PRWEB) January 24, 2020
Intertek , a 130-year-old leading quality assurance and control company certified by the ANAB (ANSI National Accreditation Board), awarded HTF's newly expanded Canadian facility outside of Toronto its ISO 9001:2015 certification in November 2019, confirming the company's status as a "Master Stocking Distributor and Service Provider of Leading Engineered Fastener, Component and Hardware lines specified by the Electronic, Telecommunication, Medical, and Defense Industries."
Steve Hill, GM of HTF Canada says "The ISO 9001:2015 designation represents further assurance to our customers that HTF Canada has a stringent dedication to process, quality and continuous improvement." ISO, or the International Organization of Standardization, is an independent, non-governmental international organization with a membership of 164 national bodies ( ISO ). HTF met the rigorous international standards created by ISO to ensure the quality, safety, and efficiency of products, services and systems.
HTF has continuously maintained its ISO certification in the United States since 1998. In addition to its U.S. and Canadian ISO certifications, HTF only represents industry-leading manufacturers who combine excellent product quality and superior customer service. Mark Mertz, COO of HTF says "I am proud, but not surprised, of the hard work and commitment to excellence displayed by our Canadian team members in order to gain this certification."
About HTF
HTF (http://www.htfinc.com) is a factory-authorized stocking distributor for dozens of leading engineered fastener, electronic hardware and mechanical component lines specified by the telecom, industrial, commercial, aerospace and medical industries. The company carries MS/NAS fasteners, as well, for military and defense industry requirements. Additionally, HTF distributes general hardware and tooling and provides custom secondary processing when necessary. With locations in the U.S. and Canada, HTF is ISO-certified.