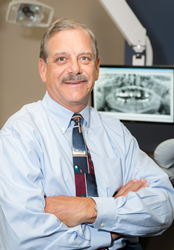 The goal of TruDenta is to manage TMD at its root problem areas, rather than simply masking painful symptoms.
HICKORY, N.C. (PRWEB) August 08, 2019
Dr. Dale Spencer of Hickory Dental Care invites those who experience frequent migraines and jaw pain in Hickory, NC, to consider the possibility that they might have TMD, or temporomandibular joint disorder. TMD is a condition affecting the TMJ, or temporomandibular joint. People with TMD frequently experience problems when opening and closing their jaws. They also may complain of discomfort at the site of the TMJ, as well as pain that radiates into other areas such as the head, shoulders or neck.
Dr. Spencer offers drug-free TruDenta® to TMD candidates who prefer a non-invasive method to relieve them of their pain. The TruDenta process allows for complete customization to serve the patient's underlying problems and goals. Some treatment available as part of TruDenta include laser therapy, ultrasound sessions and trigger point manipulations. The goal of TruDenta is to manage TMD at its root problem areas, rather than simply masking painful symptoms.
Only TruDenta-certified dentists can offer this groundbreaking system that requires no surgical interventions or medications. To determine if a patient qualifies for TruDenta treatment, Dr. Spencer will first perform a Tekscan™ bite analysis. The analysis can help show any malocclusions that may occur as a result of TMD. It will also indicate bite patterns indicative of the presence of TMD.
For patients who are diagnosed with TMD and who struggle with migraines and jaw pain in Hickory, NC, TruDenta can become a standalone resource or may be utilized as part of a more comprehensive TMD treatment plan. In addition to TruDenta, Dr. Spencer offers TMJ oral appliances worn at night, laser dentistry treatments, and occlusal adjustments to round out TMD therapy options.
Individuals with sticking jaws, severe headaches and jaw pain in Hickory, NC, can call Dr. Spencer to arrange a consultation and examination at 828-270-7853.
About the Dentist
Hickory Dental Care offers modern, comprehensive dental care to patients in Hickory, NC, including general dentistry, dental implants, sedation treatment and cosmetic dentistry. Dr. Dale Spencer is a graduate of the University of North Carolina at Chapel Hill, a Fellow of the American Academy of Implant Dentistry and a Diplomate of the American Board of Oral Implantology/Implant Dentistry. He is trained in the latest dental technology and offers comprehensive, comfortable, and predicable treatments for patients, including implant dentistry and IV sedation. The Hickory Dental Care team is dedicated to providing exceptional care for their patients and strives to create an office environment that is welcoming, compassionate, and of the highest quality. To learn more about Dr. Spencer and the services offered at Hickory Dental Care, call 828-270-7853 or visit http://www.hickorydental.com to schedule a consultation.