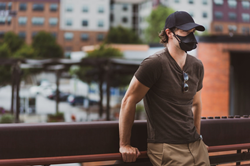 Infectious disease experts say wearing masks can help slow the spread of COVID-19, so we set out to provide a solution that's fashionable, convenient and always there when you need it
BLUFFTON, S.C. (PRWEB) August 03, 2020
Hide-a-Mask, a hat with a hidden face mask built-in, has tripled its goal on Kickstarter raising over $36,000 in less than three weeks since launch. Hide-a-Mask is ideal for anyone who is forgetful or reluctant to wear a mask.
"We are grateful for our early backers who, like us, believe having a mask at your fingertips is a great way to navigate stores, airports and other public places during the pandemic," said Tim Hickman Co-Founder of Hide-a-Mask. "Infectious disease experts say wearing masks can help slow the spread of COVID-19, so we set out to provide a solution that's fashionable, convenient and always there when you need it."
Millions of people wear baseball caps for the comfort, sun protection and style. Hide-a-Mask is an intuitive way to ensure that a large percentage of the population has protection at their fingertips.
"Hide-a-Mask eliminates the burden of carrying a mask and constantly taking one on or off," said David Adam Co-Founder of Hide-a-Mask. "It's a thoughtful gift for friends and loved-ones to encourage them to wear a mask without imposing a new routine. If they wear a hat, they can have a mask at their fingertips."
The company is also working with corporations that want to provide protection and branding to their employees and customers. Hide-a-Mask gives anyone who wears a hat an immediate way to deploy a stylish, breathable and highly protective face mask.
Designed with comfort in mind, Hide-a-Mask is snug but does not cause any pressure behind the ears because the straps are attached to the hat, not around the ears.
How it Works:

Reach into the cap to pull the mask down.
When a mask is no longer required, simply push up and a magnet allows the Hide-a-Mask to seamlessly adhere to the brim of the cap
The mask is easily removable for washing, and is quickly attached back into place
Hide-a-Mask will be available in several colors and designs. It looks great on men and women and will soon be available in kids' sizes.
For more information and to pre-order a Hide-a-Mask at early bird discounts, visit the Hide-a-Mask crowdfunding page on Kickstarter.