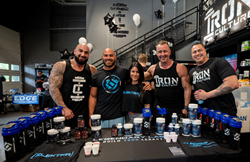 "We're striving to recruit and build an entire community of like-minded fitness enthusiasts, and our exquisite facility reflects our commitment to grow in New Jersey," said Arthur Imperatore, managing partner of Iron Culture.
CEDAR KNOLLS, N.J. (PRWEB) June 25, 2019
On June 24, Iron Culture, New Jersey's first and only high-end hardcore gym, held a grand opening event to celebrate its new 7,500-square-foot fitness center in Cedar Knolls, N.J. The grand opening event featured Morris County officials, Iron Culture's management team and top bodybuilders who regularly frequent the gym.
"After over a year in the making, we couldn't be more excited to mark the grand opening of Iron Culture. We're striving to recruit and build an entire community of like-minded fitness enthusiasts, and our exquisite facility reflects our commitment to grow in New Jersey," said Managing Partner Arthur Imperatore.
Located at 8 E Frederick Place in Cedar Knolls, Iron Culture's new facility has attracted members and guests from across the tri-state area – from as far away as Philadelphia, the Jersey Shore, Rockland County, N.Y. and beyond. Iron Culture has also attracted visits from the fitness community, including 2018 Mr. Olympia Shaun Rhoden and other top bodybuilders like Guy Cisternino, Steve Laureus and Shaun Clarida.
Since its soft opening earlier this spring, the gym has attracted over 400 members and over 7,200 Instagram followers, where staffers frequently post images of its results-oriented members and first-class equipment and setup.
Imperatore, vice chairman of NY Waterway and president of Romulus Development Corp., and a bodybuilder himself, is the visionary behind Iron Culture, along with partners Sergio Granados and Charles Addessi. Imperatore and his team pumped $250,000 into the facility's "makeover," while an additional $250,000 went into leading equipment from brands like Arsenal Strength, Life Fitness, Matrix and Rogue.
From concept to renovation and a spring 2019 launch, the project took less than one year to complete. Iron Culture was born out of Imperatore's personal mission to foster hope and healing through fitness.
"After tragically losing my son Justin, a former college lacrosse goalie, in the fall of 2018, I was motivated to create a new fitness community that emphasizes personal transformation through weight training and strength conditioning. Iron Culture is the realization of that goal," said Imperatore.
Imperatore now aims to assist those who struggle with addiction and mental illness by creating a total wellness community that emphasizes strength and weight training. Imperatore dedicated a plaque to his late son at the gym during the public grand opening event.
ABOUT IRON CULTURE
The Cedar Knolls, N.J.-based Iron Culture is an independent, owner-operated, community-based gym founded by three partners – Arthur Imperatore, Sergio Granados and Charles Addessi – who share a passion for hardcore training and a vision to offer members a unique fitness experience, exceeding what corporate chains and small studio gyms can offer. Iron Culture quickly drew over 400 members, backed by its four core values: vision, passion, execution and transformation. The gym offers powerlifting, bodybuilding, cardio, weight management, a recovery and nutrition program, on-the-go meals, military and student discounts, competitive pricing and more. Find IC on Instagram @ironculturenj. For more information, visit http://www.ironculturenj.com.