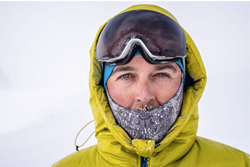 It was an incredible journey and experience to be part of something so amazing.
SEATTLE (PRWEB) April 07, 2020
Andrew Hughes celebrated his completion of the Antarctica Trifecta as the fastest man ever to complete Skiing the Last Degree to the South Pole, reaching the summits of Mount Vinson, the highest mountain, and Mount Sidley, the highest volcano in Antarctica, consecutively within 43 days roundtrip from home. Hughes broke the previously known record of a 45-day roundtrip, set during 2018-2019. He also shared in this record feat with his long time climbing partner Roxanne Vogel.
After four separate flights to return home in Seattle, Washington, Hughes set the new world record on January 24, 2020. Over 43 days, he was tested through subzero storms with tempest-like winds, to a frostbitten body that left him blistered and burnt from the cold, to countless other unforeseen obstacles which nearly derailed the realization of the record.
At points during his expedition, storms laid siege on Hughes and his teams holding them hostage in conditions for several days forcing rationing of food and supplies. Eventually emerging from the mountain, Hughes had lost nearly 15lbs, suffered frostbite on his hands and face as well as trench foot due to prolonged exposure to the cold and wet, causing permanent nerve damage to multiple parts of his body. And yet, Hughes always remains positive.
"I believe in one intimate truth that was reaffirmed through this process. That is accomplishments should always be held in gratitude and with humility," says Hughes. "It was an incredible journey and experience to be part of something so amazing."
Hughes is scheduled to attempt the exceptional feat of summiting Mount Everest and Lhotse back to back in 2021 following the Nepal climbing season being canceled this year. This will be the completion of the Seven Summits for Andrew and bring him within one expedition of realizing the rarely achieved Explorers Grand Slam.
About Andrew Hughes
Andrew Hughes is a high-endurance athlete from Seattle, Washington. He pursued the path that checked all the boxes that aligned with a socially acceptable narrative of success - from his multiple degrees earned, to his career choices and relationships.
When failures found Hughes and the world he had constructed began to crumble, he found the foundations of the life he had built were based upon other people's dreams and not his own. Faced with a choice to embrace the uncomfortable and unknown, the mountains and outdoors allowed his questions to find answers and redirected his own dreams.
The mountains and climbing became where he began to rediscover himself. Hughes embraced the journey of redefining his relationship with discomfort, which altered his perspective of achievement and unified the fragmented aspects of himself.
Hughes has since spent years climbing some of the highest mountains in the world. He has known repeatedly the disconnect and uncertainty of surviving in hostile and deadly environments not meant for people to exist. He has suffered injury, failure, and near-death experiences – and yet he returns to the mountains because they are a reminder of the strength that can be developed within times of struggle and discomfort.
To interview or collaborate with Andrew Hughes, please visit: http://www.andrewihughes.com.