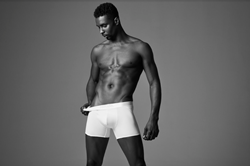 "I've been a fashion stylist in NYC for 24 years, mostly dressing women for red carpet events and photo shoots. I use a lot of women's shapewear and noticed there was a lack of men's options that made us look good in our jeans and pants."
NEW YORK (PRWEB) February 22, 2023
Men's shapewear is no longer overlooked with Neude. Launching today, Neude is a brand-new stylish and functional men's underwear line featuring supportive and lifting features similar to shapewear.
The global shapewear and compression market reached a value of over $14 Billion in 2021. While women have been utilizing shapewear to enhance their features and body for years, men's shapewear is limited to compression shirts or athletic wear. And, as the men's underwear industry expands, so does the demand for higher quality designs; based on a recent study, 75% of U.S. men stated they are unsatisfied or have issues with their current brand of underwear.
The growing demand for underwear that fuses fashion, function and comfort is answered by Neude's line that now allows men to elevate their body in an everyday form. The new line is breathable, water-resistant, made for athletic wear and comfortable to wear all day, every day.
"I've been a fashion stylist in NYC for 24 years, mostly dressing women for red carpet events and photo shoots. I use a lot of women's shapewear and noticed there was a lack of men's options that made us look good in our jeans and pants," said Eric Niemand, Founder and CEO of Neude. "If you look good, you feel good, and this underwear will make you feel sexy enough to walk around like the proud man you are."
Neude has a built-in jockstrap that provides an extra lift to the butt that naturally curves the cheeks in place, providing a sexy, confident and fitted look. The front pouch support allows for freedom of movement and breathing room without the squeezing feeling of compression-style underwear. And, the cutline in the front of the underwear pushes a man's privates forward to sit comfortably and potentially appear bigger.
There are five innovative Neude designs available in black or white, including the Sports Strap Brief, Sports Strap Jock and the Sports Strap Trunks, in lengths 2", 4" and 6". To pre-order visit, pr.go2.fund/neude.
About Black Frame Studio
Black Frame Studio is led by entrepreneurs who have contributed and worked for some of the world's most well-known fashion brands. With decades of experience in all levels of fashion, the Black Frame Studio team has decided to bring a new meaning of high-fashion shapewear into the men's athletic wear and underwear market with their new line, Neude. For more information, visit https://blackframestudio.com/.