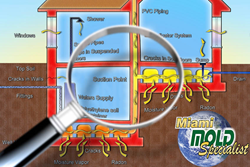 MIAMI (PRWEB) August 24, 2018
Radon, radon's progeny, alpha radiation, beta radiation, gamma radiation, and other types of radioactive decay can all be monitored and collected with Miami Mold Specialists new technologically advanced radon testing, detection, and mitigation equipment.
What is Radon and radon progeny?
Radon is a type of natural occurring radioactive gas that is generated from decaying uranium located from far beneath the ground. Radon is an invisible, colorless, odorless radioactive gas that is a byproduct of radium. Radon also creates radioactive radioisotopes known as radon progeny, they can include- bismuth 214 (radium C), lead-214 (radium B), polonium-214, and polonium-218 (radium A).
What is Alpha, Beta, and Gamma Radiation?
Alpha, beta and gamma radiation are all types of radioactive decay particles that are present and found in normal levels all over the world. These different types of radiation, when exposed to in higher than normal levels, will all cause severe health complications to anyone exposed to this invisible, yet potentially lethal threat.
Each one of these types of radiation particles are different, with each negatively impacting the body in multiple ways.
Read more about harmful alpha, beta, and gamma radiation particles-
https://www.miamimoldspecialists.com/alpha-beta-gamma-monitor
A spokesperson for Miami Mold Specialist recently stated, "After serving thousands of clients in South Florida, we came across a large number of clients that were aware of radon gas in the greater Miami area. As such, we decided to jump back into the radon service industry as we did years ago in the greater New York City area. We have taken into consideration how toxic mold is finally starting to attract attention from mainstream media outlets and decided to also assist with raising awareness for radon exposure in Miami as it is the second biggest cause of lung cancer in the United States."
Find out more about radon gas in South Florida by visiting the Florida Department of Health website and viewing the information and radon maps.
http://www.floridahealth.gov/environmental-health/radon/index.html
With the launch of the new radon testing and mitigation division, Miami Mold Specialist invested in and acquired some of the latest state of the art radon testing, radioactive detection, and radon mitigation technologies to accommodate their new radon services division.
For more information on Miami Mold Specialist's new radon services in Miami and South Florida, visit-
https://www.miamimoldspecialists.com/radon-services-south-florida
About Miami Mold Specialists-
South Florida's Premier Indoor Air Quality and Mold Removal Service Provider- Miami Mold Specialist: High Tech and Eco Friendly Indoor Air Quality, Mold Consulting, 3rd Party "Conflict Free" Mold Testing, Mold Removal, Mold Prevention, Water Protection, and Radon Testing Services by Miami Mold Specialist.
Multi Certified, Licensed, Bonded, and Insured. Over 30 Years Experience!
Call- 1-305-763-8070
http://www.miamimoldspecialists.com