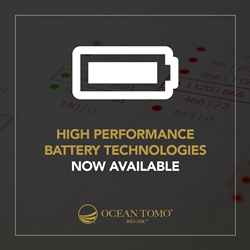 The high-performance battery inventions are both economical and highly efficient, ensuring high cycle life, low charge time, less self-discharge, high cell voltage, no maintenance, and low toxicity compared to existing secondary batteries
CHICAGO (PRWEB) February 09, 2021
Ocean Tomo Transactions, LLC will auction a portfolio of twenty global patents with protection in the United States, Europe, Canada, and Japan for a collection of high-performance battery technologies. Eight patents in this portfolio focus on lithium battery technology, eight focus on lead alkaline battery technology, and four patents consist of other battery technology. The entire portfolio is available through the Ocean Tomo Bid-Ask™ Market, auction lot 133. The patents include unique, high-performance battery electrode compositions including Lithium, Lead, Zinc, and other metals and metal alloys. The present inventions are both economical and highly efficient, ensuring high cycle life, low charge time, less self-discharge, high cell voltage, no maintenance, and low toxicity compared to existing secondary batteries. Variations in chemical processes provide significant opportunity to pursue alternative means for achieving leading edge battery performance. The inventions can be applied to the mobile phone, laptop, and electric car industries and will provide important protections to manufacturers of a wide range of battery technologies. This is a unique opportunity to acquire an innovative range of battery technologies that can supplement and expand a company's battery IP.
To request bidder credentials or further information on this auction or other portfolios on the Ocean Tomo Bid-Ask™ Market, contact Layna Guo lguo@oceantomo.com or +1 312 327 8179.
About Ocean Tomo Bid-Ask™ Market
The Ocean Tomo Bid-Ask Market is an open on-line platform to buy and sell patents. This market is an important step forward, both as a simplified solution for patent transactions as well as a source of information on patent pricing. The Ocean Tomo Bid-Ask Market uniquely combines the efficiency of an online platform with an experienced team of brokers fluent in both English and Mandarin. The market uses standard transaction documents and is open, transparent, and free to view.