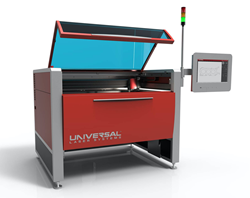 SCOTTSDALE, Ariz. (PRWEB) January 30, 2020
The ULTRA X6000 is a precision laser material processing system, designed to meet the most demanding requirements of today's manufacturing, product development and materials research.
It offers processing of a wide range of advanced polymer and composite materials by utilizing patented hybrid laser technology with multi-wavelength and laser power optimization capabilities. It affords the best possible matching of the available laser energy with the absorption characteristics of the materials being processed.
It has a built-in and ever expanding database of material laser processing parameters that drastically simplifies set up and use of the system. Operations that can be performed by the ULTRA X6000 system include: precision high speed cutting, marking, surface profiling, engraving, surface modification and many others.
The system has modular design and can be easily configured for laser processing of a specific material or a broad range of diverse applications.
The ULTRA X6000 platform by Universal Laser Systems, Inc. represents cutting edge technology, offering accelerated return on investment, high productivity and expansion in capabilities well beyond previously available.
For more information visit https://www.ulsinc.com/.