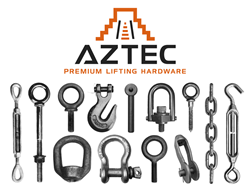 MINNEAPOLIS, Kansas (PRWEB) August 16, 2018
Hot on the heels of G.L. Huyett's recent acquisition of AZ Lifting Hardware in Phoenix, AZ, G.L. Huyett now proudly distributes high-quality Aztec Premium Lifting Hardware in addition to more than 100,000 non-threaded fasteners and grease fittings.
Headquartered in Minneapolis, KS, G.L. Huyett has manufactured or aggressively procured high-quality fasteners from around the world and offered them in low minimums at fair prices since 1906. In July, the Company began distributing a complete line of specialty lifting, rigging, and suspension hardware components including eye bolts, turnbuckles, and shackles, along with various grades of chain, chain accessories, and wire rope fittings – all available now at huyett.com/aztecliftinghardware.
"This is literally new ground for us, and we're very excited about the benefits it will provide our customers," said G.L. Huyett's CEO, Tim O'Keeffe. "Being able to offer lifting hardware and adding a new warehouse facility in Arizona provides us better access to our West Coast customers and opens new doors for us all across North America. We now have even more to offer our distributor customers who support agriculture, power transmission, manufacturing, injection molding, machine shops, architecture and engineering, and maintenance and repair operations. In the near future we plan to dispatch lifting hardware to our Tennessee Warehouse to reduce freight costs for customers on the East Coast."
In addition to expanding their footprint in the west, G.L. Huyett has added a new Regional Sales Manager in the Phoenix area. After six years as a National Sales Manager for Elite Fasteners Inc.® in Rockford, IL, Jason Mizner will service the Southwest, Southern Pacific, and Rocky Mountain regions from his home in Surprise, AZ. He joins a strong bench of veteran Regional Sales Managers across North America from Canada to Mexico and a knowledgeable, friendly inside sales force.
Dan Harriger, Vice President of Sales at G.L. Huyett, said, "Jason will make a great addition to G.L. Huyett's Distribution Support Team. Along with his previous sales experience in the fastener industry, he has been trained using best-in-class methods to enable him to support our distributor customers with effective solution selling."
A new 48-page Aztec Premium Lifting Hardware catalog is available now that features over 2,000 RoHS- and Proposition 65-Compliant self-colored, stainless steel, galvanized, and zinc components in metric and inch sizes. Visit huyett.com/catalogs to request or download a copy today. While online, register or sign in to see Your Pricing and Quantity Breaks along with Your Complete Order History. Then you can visit at any time to check Order Status, see Expected Ship Dates, or get up to date Order Tracking information. You'll even have 24/7 access to FREE Material, Compliance, and RoHS/REACH Certifications,* and get 5% off all web orders over $100.* Or, give our friendly sales team a call at 785-392-3017 or email sales(at)huyett(dot)com.
About G.L. Huyett
Established in 1906 by Guy Huyett in the "other Minneapolis," the company is one of the oldest continuously operating businesses in Kansas. The firm is a leading innovator of products and services geared to support industrial distributors in the non-threaded fastener and power transmission sectors, delivered by competent customer-centric people operating in a Culture of Excellence.