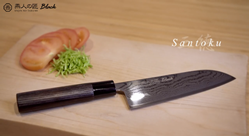 I think American consumers, and more from around the world, will be happy when they get to use one of these beautifully crafted kitchen knives created by a skillful Japanese artisan
TOKYO (PRWEB) January 28, 2020
Enjin no Takumi, a wonderful kitchen knife made of Damascus steel produced hand-produced in Tsubame-sanjo in Japan, is now available on Kickstarter.
Tsubame-Sanjo refers to the Tsubamesanjo area located near the middle of Japan, where industry evolved during the early Edo period (1600s to mid-1800s) with the production of "Wakugi" (Japanese nail) – a processing technology inherited from pioneer craftsmen that is being used today in the manufacturing of hand hammered metal crafts and sharp-edged craftsmen's tools.
"It's not an exaggeration to say that the kitchen knife handcrafted in Tsubame-sanjo has an exceptionally sharp edge and is truly breathtaking to look upon…like a mirror," said Akinobu Nakamoto, CEO of Three Arrows Marketing LTD. "Even if you use it as an elaborate work of art rather than for its practical use in the kitchen, it's a great product either way."
In introducing Enjin no Takumi to consumers around the world through crowdfunding, Nakamoto hopes to introduce more people to the ancient tradition used in Tsubame-sanjo to manufacture cutting tools, work tools, metal tableware and other products that are already well-known throughout Japan.
"I think American consumers, and more from around the world, will be happy when they get to use one of these beautifully crafted kitchen knives created by a skillful Japanese artisan," he said.
Features include:

Exceptional sharpness
Beautifully patterned Damascus
Craftsmanship
For more information, or to purchase one or more knives at a special discounted price during crowdfunding, visit the Enjin no Takumi campaign page on Kickstarter.