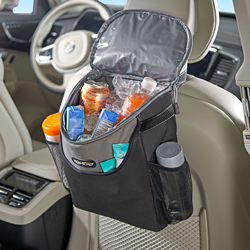 "Uber drivers know the importance of keeping their cars clean and neat while being ready to meet customer needs." David McClees
PORTLAND, Maine (PRWEB) March 11, 2019
In search of 5-star customer reviews, Lyft and Uber drivers often offer passenger extras - a bottle of water, tissues, mints and snacks can go a long way to make the ride more enjoyable. To make it easier for drivers, High Road now offers organizers that support their service goals - a seatback car cooler pack and divided storage caddy.
The SnackStash™ Seat Back Cooler is a hanging neoprene car cooler that keeps drinks and snacks in chilled, leak-proof storage for the driver as well as passengers. The Portable Seat Caddy is a convertible car seat organizer that can be configured 8 different ways to store mugs, phones, snacks, a tablet, sanitizer, tissues and more. It also features a convenient handle to move the organizer for passenger access.
David McClees, owner of the High Road brand and regular Uber passenger says, "Uber drivers know the importance of keeping their cars clean and neat while being ready to meet customer needs. Staying organized and keeping the car tidy not only keeps clutter from becoming a distraction, but also makes it easy for riders to get in and out quickly."
High Road pioneered the car organizer category, beginning with the introduction of the TrashStash®, the first hanging leak-proof car trash bag. Talus, a Maine company committed to original products that make travel more convenient, established the High Road brand in 1990.