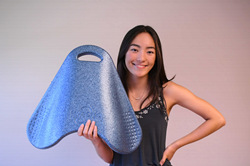 "Bringing Ray-Board to market has taught me so much about business and entrepreneurship. I'm so thankful to the organizations and individuals who have taken a chance on me and this product. I hope that through my story other young girls will be encourages to fully explore their ideas."
NEW YORK (PRWEB) September 30, 2020
Ray-Board, a swim gear startup founded by high school junior, Norah Kolb, is featured in the Mediaplanet "Investing in Women and Girls" campaign published today within USA TODAY and online, found here.
As an 8th grader, Norah invented a unique swim kickboard while participating in the Connecticut Invention Convention. She continued to develop the product with financial support from CTNext, a state funded organization that supports the local entrepreneurial ecosystem. A successful Kickstarter campaign readied the product for commercial introduction, and Ray-Board officially entered the swim equipment market earlier this summer.
Ray-Board is a swim kickboard designed to help swimmers kick in comfort. Traditional kickboards found at almost any pool are flat and unsupportive, often causing shoulder or neck pain. The unique shape of Ray-Board encourages a more natural body position, with elbows bent and forearms directly supported. The lower elbow position allows the hips and legs to achieve a more favorable alignment which helps relieve back and shoulder pain, allowing swimmers to kick longer and more comfortably. Founder Norah Kolb explains, "I had developed a shoulder injury and was experiencing a lot of discomfort when using the typical flat kickboard. The ergonomic shape of Ray-Board really reduces the stress on my shoulders. It's great to hear other swimmers who have had the same experience with flat kickboards, now using Ray-Board every day."
Since its launch in early summer, over 1000 swimmers have purchased Ray-Board.
"I'm excited to grow the business, and I'm learning a lot every day," said Norah. "It's been a bit of a challenge promoting it with so many pools closed due to COVID-19. I'd be excited to have some Olympic swimmers use it. Maybe it will help someone go for gold in Japan next summer."
Ray-Board is available in several colors at Ray-board.com and on Amazon.
About Ray-Board:
Ray-Board is a Connecticut based company that has designed and markets a patent pending swim kickboard. The Ray-Board kickboard allows swimmers to perform kicking drills more comfortably and with better body position than with conventional flat kickboards. Ray-Boards inventor, Norah Kolb, is currently a high school junior at Newtown High School, in Newtown, CT.
About Mediaplanet
Mediaplanet specializes in the creation of content marketing campaigns covering a variety of industries. We tell meaningful stories that educate our audience and position our clients as solution providers. Our unique ability to pair the right leaders with the right readers, through the right platforms, has made Mediaplanet a global content marketing powerhouse. Our award-winning stories have won the hearts of countless readers while serving as a valuable platform for brands and their missions. Just call us storytellers with a purpose. Please visit http://www.mediaplanet.com for more on who we are and what we do.
Press Contact:
Norah Kolb
Inventor, Swimmer, High School Junior
norah@ray-board.com
Press Contact:
Donna Nuriel
Communications Manager
donna.nuriel@mediaplanet.com