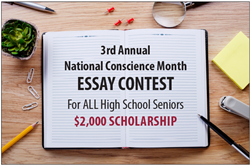 "As each of us experiments with using the Conscience to determine our thoughts, words and deeds, we are destined to become both prophets and beneficiaries of our own Super Conscious Wisdom." – Leonard Perlmutter
AVERILL PARK, N.Y. (PRWEB) January 11, 2022
With a January 28, 2022 application deadline fast approaching, one high school senior can still qualify to win a $2,000 higher education scholarship by entering the 3rd annual National Conscience Month Essay Contest. Sponsored by the American Meditation Institute, the competition will reward the student who best explains how they experimented with using (or ignoring) the wisdom of their brilliant conscience to decide what to do – or what not to do – in a challenging situation.
According to Leonard Perlmutter, originator of National Conscience Month and author of the new book, YOUR CONSCIENCE, "At present there is no educational curriculum in our country teaching students exactly how the mind makes decisions, and how to use the Conscience as a practical resource in this process. The National Conscience Month essay contest draws attention to the need for young people to develop the critical decision-making skills they will increasingly need as they prepare to enter the adult world."
Perlmutter's book, YOUR CONSCIENCE, provides a clear and accessible explanation of how the mind works and offers practical tools for readers to experiment with this knowledge. The Conscience is one of four functions of the mind, and the key is learning how to coordinate these four as a group in order to make choices that lead to lasting happiness and fulfillment, rather than instant gratification. The book can easily be adapted into educational curricula at the middle and high school levels and beyond.
High school seniors can enter the scholarship contest now, and submissions will be accepted through January 28, 2022. The contest winner will be announced the first week in February, 2022.
The mission of National Conscience Month is to foster a national conversation that inspires individuals of all ages and political affiliations to experiment with using their Conscience in choosing their thoughts, words and deeds. This month-long observance is the perfect time to clarify our individual and collective vision by using the Conscience as an inspired and trustworthy guide to making better decisions that can resolve the seemingly unresolvable.
About the American Meditation Institute
The American Meditation Institute is a 501(c)3 non-profit educational organization devoted to the teaching and practice of Yoga Science, meditation and its allied disciplines. In its holistic approach to wellness and education, AMI combines the healing arts of the East with the practicality of modern Western science. At the present time, The American Meditation Institute offers a wide variety of online classes on how to use Your Conscience. AMI also publishes "Transformation" a quarterly journal of Yoga Science as Holistic Mind/Body Medicine.
Media Contact:
Robert Washington
60 Garner Road
Averill Park, NY 12018
Tel: 518.674.8714
Fax: 518.674.8714