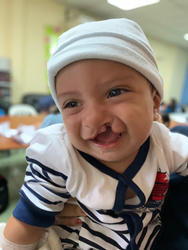 I want everyone to be able to receive the care that they need, but in lower-income countries, access to healthcare is often difficult for the families that need it the most
LOS ANGELES (PRWEB) June 25, 2019
The Global Smile Foundation will be able to bring relief and comfort to South Americans with facial deformities in July thanks to 15-year-old Kylie Azizzadeh's efforts fundraising for the mission. She has already raised $86,570 for the trip to Ecuador and hopes to reach her $100,000 goal before the mission takes place on July 15, 2019.
In 2018, Kylie became a Junior Ambassador with the Global Smile Foundation, a nonprofit organization providing medical and other resources to those born with facial deformities, and realized she could play a role in bringing more care to more people. She became the driving force behind the effort to add an additional mission trip to Ecuador and has been raising money for the organization since January 2019.
"I want everyone to be able to receive the care that they need, but in lower-income countries, access to healthcare is often difficult for the families that need it the most," said Kylie. "There are children out there who could have their lives changed for the better throughout this mission and I am raising money for those children."
For over thirty years, the Global Smile Foundation has undertaken mission trips throughout the world in an effort to provide care to all who need it. The foundation pairs volunteer doctors and nurses with communities in need, and has helped implement comprehensive care at no cost to patients in over twenty countries. They also educate local surgeons as well as offer dental treatments, speech rehabilitation, psychological assistance, and post-care necessities to patients in ongoing treatment sessions.
Kylie believes that the Global Smile Foundation is one of the best organizations to reach out to children in need. "I've paired with Global Smile Foundation because they provide all the resources necessary for communities to provide ongoing help to those born with facial deformities. They really care about the regions they serve and bring so much assistance to the families that need their help. I'm raising money for them to continue to do what they do best--make lives better."
To learn more about Kylie's fundraiser, please go to: https://gsmile.org/kylies-mission-to-ecuador/
About Kylie Azizzadeh:
Kylie is a tenth-grade student in Southern California who is deeply passionate about using technology and social entrepreneurship to improve the lives and health care of impoverished people around the world. In addition to her role with Global Smile Foundation, Kylie has also worked with Cedars-Sinai Medical Center organizing blood drives, and has helped organize a toy drive for Children's Burn Foundation.
About Global Smile Foundation
Global Smile Foundation (GSF) is dedicated to making first-class cleft care accessible to all patients regardless of geographic or socioeconomic barriers. There is a pressing need for sustainable cleft care in developing countries, where the consequences of those conditions are devastating if left untreated. GSF founders and volunteers have been committed to developing and implementing comprehensive outreach cleft care programs with a focus on quality care coupled with empowerment and sustainability initiatives for local healthcare providers. This has resulted in our patient population having the confidence and tools to be productive members of their societies.
For more information on Global Smile Foundation and Kylie's fundraising campaign, please contact Chloe chloe(at)facialplasticsbh.com