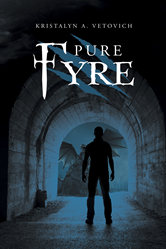 "As readers journey alongside the characters in 'Pure Fyre,' they are also taken on a journey of the self," Vetovich said. "This book teaches them to trust their own instincts, to have faith in themselves and a higher power and purpose, and to embrace what makes them unique."
ELYSBURG, Pa. (PRWEB) April 20, 2020
High-vibe author and astrologist KristaLyn A. Vetovich recently published her latest New Age, fantasy novel: "Pure Fyre." This novel is set in a high-vibe world where the characters tap into their powers by using metaphysical concepts, such as connecting with crystal energy and spirit guides.
"Pure Fyre" follows Spyre as he is forced to save The Kingdom of Condel and its leader, Eofyn. He is set on this journey because the other creatures of the realm wanted him to team up with Eofyn to help overthrow his king, Afor, who conquered The Kingdom of Condel. Throughout the novel, as Spyre adventures from one kingdom to another, various fantasy characters present themselves such as elves, trolls and dragons.
"Pure Fyre" entertains readers with a mystical, adventure tale and teaches them valuable life lessons. An essential lesson Vetovich teaches readers is finding your place in a world where you don't feel like you fit in, which is represented through Spyre's journey. Throughout the novel, Vetovich includes strong female characters to inspire female readers to find their personal strengths. Finally, Vetovich teaches readers to find their inner power, which is represented by the Pure Fyre within Eofyn.
"As readers journey alongside the characters in 'Pure Fyre,' they are also taken on a journey of the self," Vetovich said. "This book teaches them to trust their own instincts, to have faith in themselves and a higher power and purpose, and to embrace what makes them unique."
"Pure Fyre"
By KristaLyn A. Vetovich
ISBN: 978-1-9822-3919-0 (softcover); 978-1-9822-3921-3 (hardcover); 978-1-9822-3920-6 (electronic)
Available at the Balboa Press Online Bookstore, Amazon and Barnes & Noble.
About the author
KristaLyn A. Vetovich is a high-vibe author and astrologist. Through her books, she helps readers find emotional healing and inspires them to connect to the lives they want. She is an expert in various healing modalities including reiki, crystal healing, Advanced IET, and Advanced ThetaHealing®, with additional certifications in Hellenistic astrology and chirology. She graduated in 2011 from Susquehanna University with a degree in English literature. She hopes to help authors, specifically those who want to write high-vibe fiction, overcome their writing anxieties and inspire them to become published writers like her. Currently, she resides in a treehouse in Elysburg, Pennsylvania with her husband and corgis, Jack and Zelda. To connect with Vetovich, please visit her website: http://www.kristalynavetovich.com/.
For Interview Requests & Review Copies, Please Contact:
LAVIDGE – Phoenix
Krista Tillman
480-648-7560
ktillman@lavidge.com
###