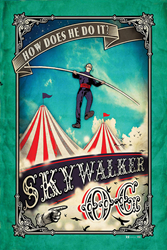 High Art Studios' mission is to communicate the "magic of marijuana" with dignity and style.
San Diego, CA (PRWEB) August 30, 2017
The new Netflix comedy, 'Disjointed,' is taking marijuana-themed art mainstream by featuring the world's most famous cannabis strains as interpreted by California artists collective High Art Studios. They are discreet visual renderings of the marijuana experience.
The images are based on vintage travel, circus, magic, fruit crate, rock and pop art styles and do not feature overt marijuana imagery or references. High Art Studios' mission is to communicate the "magic of marijuana" with dignity and style.
Eleven of the poster prints are featured on the set of the new sitcom by Chuck Lorre (Big Bang Theory, Two and a Half Men) and David Javerbaum (Head Writer, 'Daily Show'). Kathy Bates stars as the owner of Ruth's Alternative Caring (a fictional LA Dispensary.) The images decorate the interior of the dispensary.
The vintage themes in the artwork enhance the 60s sitcom feel of 'Disjointed.' The result is a seamless throwback that is familiar but updated to reflect today's cultural fascination with marijuana.
The High Art Studios online store sells the full collection of posters starting at $15 for a 24" x 36" print.
The Golden Goat poster is a nod to early morning cannabis use known as "wake and bake." Girl Scout Cookie captures the magical and mystical essence of a very strong high. Blue Dream "cloud city" is a look at someone enjoying a dream-like moment. Dutch Treat image presents a lazy afternoon bike ride after the coffee shops in Amsterdam. Darth Vader even makes an appearance in the corners of the Skywalker OG poster.
High Art Studios is a collective of artists who create artistic interpretations of the cannabis high. High Art owner, Doug Mau, has been creating innovative merchandise items and merchandise programs for major touring acts, shows, events, and corporate clients for over twenty years. Mau says that his goal for the company is to create a collaborative artist driven environment with the goal of maximizing its potential through partnership. The current High Art artist line-up includes Alan Karalian, Mike Green, Bob Dob, Antonio Sismundo, Taylor Robinson and Mau himself.
The artists work together to reimagine vintage artistic styles. They create images that harken back to a different time. But as shown on 'Disjointed' they have become part of contemporary culture.