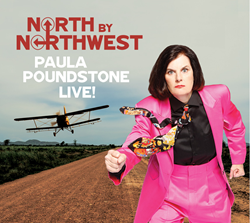 Laughter is the best medicine, and I prescribe two CDs when symptoms occur.
Prince Frederick, MD (PRWEB) May 10, 2016
HighBridge Audio, a division of Recorded Books, is set for a June 28 release of North by Northwest: Paula Poundstone Live! as both an audio CD and digital download.
About the "double-live" release, Poundstone said, "I filled two CDs and I'm still talking, somewhere." Each CD presents a complete performance from Poundstone's recent tour. The first CD was recorded at the Lake Superior Big Top Chautauqua in Bayfield, Wisconsin, and the second was recorded at the historic Aladdin Theater in Portland, Oregon. Continued Poundstone, "It's a joyous romp through a field of cheeseheads and hipsters."
Poundstone has been heralded as one of the country's great comic minds. She tours regularly and is famous for her razor-sharp wit, self-deprecating humor, and spontaneity with crowds. She even manages to handle politics without the disapproval provoked by less artful comics.
A popular panelist on NPR's #1 show, Wait Wait … Don't Tell Me!, Poundstone voiced the character "Forgetter Paula" in Inside Out, the Oscar-winning movie from Disney Pixar. Her long list of successes include being the first woman to perform stand-up at the prestigious White House Correspondents' Association annual dinner, the first woman to win the CableACE Award for Best Stand-Up Comedy Special, her own series on ABC and HBO, several stand-up specials on HBO, and an American Comedy Award for Best Female Stand-Up. She is also a published author.
"Paula Poundstone has won a wide audience for her full, unrestricted stand-up routines," said Frank Randall, HighBridge senior acquisitions editor. "She has a comic mind like no other, and it's in live performance, engaging with her audience and veering into uncharted territory, where she is at her best. HighBridge has a long history of presenting Paula's work to fans of spoken-word entertainment, from her first audiobook, There's Nothing in This Book That I Meant to Say, to the many collections we've published from Wait Wait … Don't Tell Me!, where she consistently gets the biggest laughs."
Randall concluded, "With the release of North by Northwest, we are delighted to present Paula in solo performance, leading her audience on a journey they could never have anticipated, and one they will never forget."
Added Poundstone, "Laughter is the best medicine, and I prescribe two CDs when symptoms occur."
Poundstone is scheduled to attend the ALA Conference in Orlando on June 26. Conference attendees can find her at Recorded Books booth 1951, where there will be autographed card giveaways featuring a code to download free audiobook copies of There's Nothing in This Book That I Meant to Say and an excerpt from North by Northwest.
###
Paula Poundstone can be found on Twitter (twitter.com/paulapoundstone), Facebook (facebook.com/paulapoundstone), and the web (paulapoundstone.com).
###
About HighBridge
HighBridge, a division of Recorded Books, Inc., is a leading publisher of spoken-word audio. Started by Minnesota Public Radio to produce and distribute recordings of Garrison Keillor's A Prairie Home Companion, HighBridge was incorporated in the early 1980s. HighBridge's catalog has expanded over the years to include New York Times bestselling fiction and nonfiction, Oprah's Book Club titles, National Public Radio compilations, and more. For more information, visit http://www.highbridgeaudio.com.
About Recorded Books
Recorded Books is the largest independent publisher of unabridged audiobooks and provider of digital media to consumer, retail, professional, school, library and infotainment markets. The company owns an exclusive catalog of more than 22,000 audiobook titles narrated by professional, award-winning actors. Recorded Books provides digital audiobooks and eBooks, as well as other compelling third-party content, including digital magazines and films, through its proprietary RBdigital Gateway platform. The company operates in the United Kingdom through its W. F. Howes subsidiary and in Australia through its Wavesound subsidiary. Recorded Books was founded in 1979 and is headquartered in Prince Frederick, MD. For more information, visit http://www.recordedbooks.com.