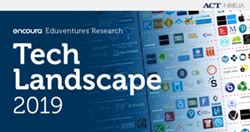 The landscape of higher education, with a growing diversity of institutions, cultural environments and competitive ecosystems, is changing rapidly and disruptively.
BOSTON (PRWEB) October 15, 2019
ACT® | NRCCUA®, an educational data science and research organization, announced today the publication of the Eduventures® 2019 Higher Education Technology Landscape. Created to help higher education leaders prioritize their technology investments and understand the expanding array of standalone and bundled offerings, Eduventures has been publishing an up-to-date report on this ever-changing technology landscape for the past five years.
The technology environment has changed dramatically since the report's inception in 2014. As a result, Eduventures has updated the methodology and increased the rigor in defining and classifying these segments. The four segments included in this report include Admissions and Enrollment Management, Advancement, Student Success and Instruction, and College-Wide IT/Enterprise Backbone.
Additions, Deletions, Revisions and Category Definitions
With a sharpened methodology and inclusion criteria, the 2019 report unveiled a number of additions, deletions, revisions, and changes in category definitions:

Additions: Seven new segments have been added to reflect the range of products required to support a teaching and learning ecosystem.
Deletions: Based on a thorough review of all segments, it has been concluded that online program management providers (OPMs) should not be included. The report provides a separate map for these companies.
Revisions: Online Proctoring Solutions has been renamed Assessment Integrity Solutions.
Category and Segment Definitions: The College-Wide IT/Enterprise Backbone category was added and represents systems that comprise the core of an institutions technology ecosystem.
Market Pressures that Impact Growth
Research from this Landscape has revealed four key market pressures impacting the market, resulting in downward pressure on some segments while positioning other segments for growth. These include the following:
Challenges in Defining "Student Success": There is a lack of clarity around what higher education means by the ubiquitous term, "student success." Is it career attainment? Persistence to graduation? Student achievement? Or something else? Likewise, a growing number of technology solutions claims to support different types of student success.
Increasing Focus on the Learning Ecosystem: Eduventures has observed a change in how institutions consider technology selection, from a sole focus on a solution's functionality to balancing these considerations with a solution's fit within an ecosystem. This ecosystem view plays out in terms of the arrangement of products and guiding principles underlying teaching and learning ecosystems.
Aiming for Transformation: College and university leaders care less about the role technology should play in supporting essential operations, such as maintaining student records, and more about the role it should play in helping an institution transform itself to deliver value to its stakeholders.
The Rise of the Engagement Layer: Student engagement often refers to how institutions exchange information with students through texts, emails, or social media posts. Increasingly, Eduventures sees institutions look to supplement this type of communication with a deeper form of engagement, one that aims to deliver a better student experience, an increased student sense of belonging, and better student achievement.
According to James Wiley, Principal Analyst at Eduventures and author of the study, "The landscape of higher education, with a growing diversity of institutions, cultural environments and competitive ecosystems, is changing rapidly and disruptively. As we move beyond 2019, we will continue to monitor the market of education technology to determine new segments that are emerging and gaining traction in the marketplace. Likewise, we will closely track how certain technologies, such as student information systems and constituent relationship management solutions extend beyond their origins into other technology categories."
About ACT | NRCCUA
Now part of ACT, The National Research Center for College and University Admissions™ is an educational data science and research organization serving over 1,900-member institutions comprised of public and private colleges and universities across the nation. Since 1972, NRCCUA has been a leading provider of data, technology, and programs serving students, high school educators, colleges and universities from its offices in Lee's Summit, MO, Boston, MA, New York, NY, and Austin, TX. These solutions represent the link between students making important life decisions and those providing the resources and information they need to succeed in their post-secondary educations and careers. With the launch of Encoura™ Data Lab, the company now combines data science, advanced analytics, Eduventures research, predictive modeling and omnichannel enrollment services in one platform to enable institutions to make real-time strategic and operational decisions to meet their unique enrollment goals and create the highest probability of student success. For more information, visit https://encoura.org.
Members of the media who would like to speak to the author of this report or obtain a copy of the report can contact Ellen Slaby at eslaby@eduventures.com.