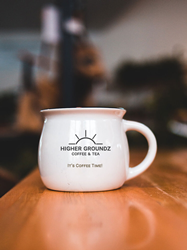 Giving back is one of our core values at Crimson Cup, and we consider it an honor to help create coffee shops focused on the community.
COLUMBUS, Ohio (PRWEB) September 14, 2020
The newest coffee shop in Maryland Heights, Missouri has a unique mission: refresh the community, body and spirit. Built in the basement of Zion Lutheran Church at 12075 Dorsett Road, Higher Groundz Coffee & Tea held its grand opening August 4.
"We've been here for 150 years and are still finding ways to build bridges throughout our community," said Pastor Mark Femmel. "What better way than through coffee and tea, which reach every corner and level of society?"
To convert its basement into a state-of-the-art coffee shop, the church turned to award-winning Ohio coffee roaster Crimson Cup Coffee & Tea.
"We're excited to welcome Pastor Femmel and Zion Lutheran Church as 7 Steps customers," said Founder and President Greg Ubert. "Giving back is one of our core values at Crimson Cup, and we consider it an honor to help create coffee shops focused on the community."
Since 1991, Crimson Cup has helped hundreds of entrepreneurs, churches and nonprofits in 30 states open thriving coffee houses. The roaster helps owners put their stamp independent businesses that reflect the needs of their local community.
Pastor Femmel said he learned about Crimson Cup through another successful customer: Germania Brew Haus in Alton, Illinois. Germania opened in 2017 through Crimson Cup's 7 Steps to Success coffee shop franchise alternative.
Based on Ubert's book, Seven Steps to Success: A Common-Sense Guide to Succeed in Specialty Coffee, the consulting program teaches everything needed to open and run a profitable coffee business.
Working with 7 Steps Trainer Steve Bayless, the church invested $750,000 to create a spacious and inviting space for a state-of-the-art coffee house in the historic building's basement.
By following the 7 Steps, Pastor Femmel and his team learned the coffee business from the grounds up.
"Taken together, all 7 Steps are a great system, but we really appreciated the equipment guidance in Step 3," he said. "We would have had no idea what to buy. There are so many available."
When asked what advice he would give to prospective coffee shop owners, he said, "Connect with Crimson Cup and follow the plan!"
Inside Higher Groundz, customers choose from a full menu of hot and cold specialty coffee drinks, including handcrafted espressos, lattes, cappuccinos and mochas, plus frozen smoothies, hot chocolate and premium hot and iced teas.
Pastor Femmel said customers are impressed with the taste and quality of the award-winning coffee and espresso-based drinks.
"We've converted black coffee drinkers to raspberry mocha drinkers by asking if they like coffee and desserts," he said. "If you're willing to pay $5 for a dessert at a restaurant, why not a dessert in a cup that you can sip for an hour?"
Just a few weeks since opening, Higher Groundz is attracting regular customers – and rave reviews. "My family and I come here almost every day," said one Google viewer. "The coffee is the best coffee we have ever had…"
"Our purpose is to delight and to inspire you for whatever challenges you will face today," Pastor Femmel said. "We're on a mission to reach out beyond coffee and tea to those looking for a place to call home."
"If you're in the Maryland Heights area, we invite you to experience the vibe of our brand new coffee shop!" he added. "In a world that has lost its appreciation for the uniqueness of each individual, we offer a unique location and unique approach because everyone who enters our doors is unique."
About Crimson Cup Coffee & Tea
Columbus, Ohio coffee roaster Crimson Cup Coffee & Tea is a 2020 Good Food Award winner, 2019 Golden Bean Champion for Small Franchise/Chain Roaster and Roast magazine's 2016 Macro Roaster of the Year. Since 1991, Crimson Cup has roasted sustainably sourced craft coffee in small batches. It sells coffee to consumers and distributes wholesale coffee beans.
Through its 7 Steps to Success coffee franchise alternative program, the company teaches entrepreneurs to run successful coffee houses. By developing a coffee shop business plan, entrepreneurs gain insight into how much it costs to open a coffee shop.
Crimson Cup coffee is available through over 350 independent coffee houses, grocers, college and universities, restaurants and food service operations across 30 states, Guam and Bangladesh. The company also operates several Crimson Cup Coffee Houses. To learn more, visit crimsoncup.com, or follow the company on Facebook, Instagram and Twitter.