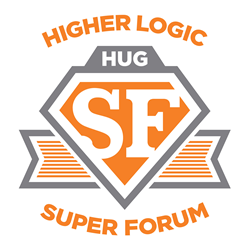 We love hosting an event that brings together the most passionate people in community management
Washington, D.C. (PRWEB) September 18, 2015
Higher Logic, the leading cloud-based, community platform provider, will host its sixth annual Super Forum, a comprehensive two-day event for community enthusiasts to listen, learn and collaborate. The event will be October 21-22, and located just outside the nation's capital in Arlington, VA.
The Higher Logic Super Forum offers community training, educational tracks and social events for community enthusiasts, thought leaders, partners and Higher Logic clients.
"The Super Forum is the place the meet the most innovative and skilled community managers," says Grace Keyes, from The Association of Rehabilitation Nurses. "Anyone who is involved in managing online communities should attend this conference. Higher Logic Community Managers rock!"
It features over 15 hours of educational programming, with tracks covering community management, basic and advanced platform management, engagement and marketing, and additional resources and solutions. The schedule also includes sessions and keynotes from community thought leaders:

David Spinks: Founder and CEO, CMX Media
Keynote: The State of the Community Industry
Vanessa DiMauro: CEO and Chief Digital Officer, Leader Networks
Keynote: How to Growth Hack Your Community
Richard Millington: Founder and Managing Director, FeverBee
Keynote: Powerful Community Psychology Hacks
Rachel Happe: Co-Founder and Principal, The Community Roundtable
Keynote: The Qualified Community
Deb Eastman: Chief Customer Officer, Satmetrix
Session: Introducing NPS2: The Next Generation Net Promoter Methodology
Elizabeth Tobey: Director of Community Management, Tumblr
Session: The Evolution of Community Management: 10 Years on the Front Lines
Brian Vellmure: Principal and Founder, Innovantage
Session: Leveraging Communities to Drive a Better Member Experience
"The best part of Super Forum every year is meeting the people who power these great communities," says Rob Wenger, CEO of Higher Logic. "We love hosting an event that brings together the most passionate people in community management. Super Forum has really grown for the past six years, and this will be our largest event yet. Everyone on the Orange Army is proud and excited to meet with all of the community managers, thought leaders and clients to learn from them – they are the experts."
Super Forum includes engagement strategy break-out sessions and technical consultations with the Higher Logic team, who will be available throughout the two-day event. This year, Higher Logic's welcome reception will be held at the new HighlineRxR restaurant in downtown Crystal City.
Registration and event details for the 2015 Super Forum is available on the event's website. As an educational program related to the CAE examination content outline, full participation in the 2015 Higher Logic Super Forum is eligible for 12 CAE credits. For more information about the CAE credential or Approved Provider program, please visit http://www.whatiscae.org.