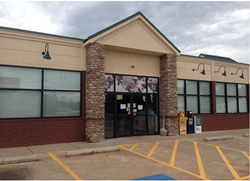 Highfill, AR (PRWEB) December 29, 2015
An exciting commercial investment opportunity has opened up in the town of Highfill in the northwestern corner of Arkansas in the Census-designated Fayetteville-Springdale-Rogers Metropolitan Area. This property is a prominent convenience store located at 14939 W Hwy 12 Highfill, AR (zip: 72734), on the busy intersection of Highway 12 and Highway 264, with great visibility to lots of traffic with easy access.
The store was formerly known as the Branding Iron Market & Grille; the 3,577 square-foot building was constructed in 2006 and includes a restaurant with a separate kitchen and dining room, plenty of display and shelving space, restrooms for both sexes, large coolers, 6 pump stations outside and 30,000 square feet of parking. Public utilities include electricity, television/cable, telephone, city water, septic, natural gas & garbage collection.
The Fayetteville-Springdale-Rogers Metropolitan Area is home to half a million residents, and is located in the Ozarks region on the state. Fayetteville is home to the University of Arkansas and its 26,000 students, Springdale is widely known as the "Chicken Capital of the World," and Rogers served as the location of the first Wal-Mart. (The nearby town of Bentonville is home to Wal-Mart's headquarters.)
Founder & CEO Wade T. Micoley is particularly excited about finding a good fit for this property via the upcoming auction. "It doesn't get any more Americana than Arkansas and Wal-Mart. This is a ready-to-go business in a good neighborhood in a great area of the country; it would make an excellent addition to any commercial real estate portfolio."
The property is listed at $1,125,000 with an opening bid of $595,000 if no offer is received before the February 24 auction.
The highly motivated sellers of this property have indicated that they plan to entertain early bids and offers. Buyers are most likely already researching this property, and coming to decisions about whether to make a purchase, so potential buyers are advised to act fast.
Interested parties should visit micoley.com to find more photos and details about the property, or visit in person and perform an inspection on site, which is highly recommended. (866) 371-3619 is Micoley.com's information line. Additionally, Micoley.com features a live chat service through which questions can be answered.
About Micoley.com:
Green Bay, Wisconsin-based Micoley.com is a real estate marketing firm specializing in project focused auctions and sales events of bank-owned and traditionally listed Real Estate throughout the United States. The Micoley.com approach to Real Estate marketing tailors each auction plan to the client's individual needs. The site is constantly being updated for the benefit of buyers, as large-scale auction events are held every two months, and new properties are added daily.