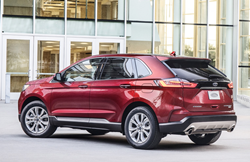 SAULT STE MARIE, Ontario (PRWEB) March 19, 2020
Highland Ford has introduced new sanitation protocols for shoppers' safety. Additionally, Highland Ford also has online car shopping options to help drivers who want to find the car, truck, or SUV of their choice right from home.
This new health strategy utilizes hospital-grade cleaning supplies to sanitize the showroom to give guests peace of mind as they shop for a new vehicle. This deep cleaning process occurs regularly on surfaces and showroom vehicles. Hand sanitizing stations are also available for visitors throughout the dealership to uphold sanitation standards. The staff of Highland Ford have also been instructed on best practices to provide a hygienic environment for guests' convenience. These guidelines and practices are in accordance to the regulations of Algoma Public Health.
AutoFi is the online shopping technology that is available when interested parties visit the dealership website. From there, drivers can learn about financing a new vehicle and make payments for a completely online interface with the dealership. Online visitors can browse through the Highland Ford online inventory to see what vehicles are available for purchase. Those interested can also schedule a test drive at Highland Ford on the dealership website.
Highland Ford is open from Monday through Saturday. Monday through Thursday the dealership opens at 8 a.m. and closes at 7 p.m., Friday opens at 8 a.m. and closes at 6 p.m. and Saturday the dealership is open from 9 a.m. until 1 p.m. Interested parties can visit the showroom located at 68 Great Northern Road Sault Ste Marie, ON P6B 4Y5 or call to speak with a professional at 705-759-5050 for more details on available services.